IRMA successfully concludes Placements 2012: 2.14 offers per student
| February 24,2012 04:14 pm IST
Its celebration time at IRMA. The week long Placement Week was wrapped up in 3 days with all of the 105 candidates of the 31st Batch landing up in meaningful jobs in diverse sectors with equally diverse profiles.
More than 50 % of the batch was placed on the first day of the placement week.
True to IRMAs core mission of providing trained professionals to the rural development sector, all the organizations chosen to participate in the placement process, as well as the jobs they offered, had a social cause at its heart irrespective of their organizational form.
In all, 65 organizations announced a total of 225 offers out of which 105 offers from 30 organizations were accepted in the process. Once again dairy sector was the major recruiter followed by organisations from agribusiness, rural livelihood sector and rural finance.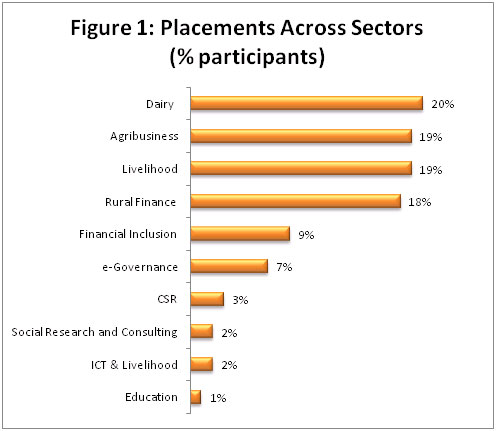 The placement week witnessed some of the core partners of IRMA coming back to the campus with offers that reaffirmed their faith in IRMA graduates. The major recruiters in this category were Gujarat Cooperative Milk Marketing Federation (GCMMF), National Dairy Development Board (NDDB), Mother Dairy, Agha Khan Rural Support Programme (I), Society for Elimination of Rural Poverty (SERP), Govt. of Andhra Pradesh, ARSB division of Yes Bank and ITC | e- Choupal to name a few. However, a highlight of the placement season was the presence of many first-time recruiters who were able to attract the graduating batch with profiles designed specifically for IRMA graduates.
Prominent amongst them were The Govt. of Bihars Bihar Rural Livelihoods Promotion Society (BRLPS) which hired 16 candidates for their livelihood intervention Jeevika. Kancor Ingredients Limited, Cochin was another major recruiter which made 9 offers with profiles ranging from Supply Chain Management to Strategic Business planning. Spices Board India, Cochin hired one graduate to lead their Flavourit Spices Trading Limited (FSTL) venture. Rabo Bank India Operations also recruited one participant from the graduating batch. While Santanu Dutta with more than five years of work experience at grassroots with PRADAN has decided to join CInI (Central India Initiative Cell of SRTT), a fresher in the graduating batch, Anusha Chaitanya will be joining AKRSP (I) as the Programme Specialist (Livelihoods).
The salaries ranged from Rs 4.0 to 15.0 lakhs per annum with an average salary of Rs. 8.1 lakhs per annum. Many offers were made for state level positions which involve carrying immense responsibility. IRMA has a unique IRMA Fellowship Programme to encourage graduating students to work for organisations in the development sector that cannot afford its graduates. The Placement Committee every year, after receiving placement offers, decides the gross salary that an IRMAn should receive. Those students who chose to work for democratic community organisations and non-profit organisations which facilitate democratic organisation or development of rural people for less than this gross salary become eligible to receive the IRMA Fellowship equal to the difference between the actual and the decided minimum gross salary.
.