Placements 2011: Finance continues to be major recruiter, consulting follows
| April 26,2011 10:10 am IST
The economic turmoil has slowly and completely vanished from the economic circles of India increasing total number of offers, recruiters, salaries, new recruiters and what not at b-schools campus placements.
Unlike in the past years, when economic recession had hit the world, most of the companies shedding their workforce to cut cost, finding recruiters for campus hires was a tough nut to crack.
And even if b-schools managed to have some, the pay packages were not as alluring as they had been always.
When the whole world was suffering from recession, if there was something which managed to survive its buoyancy was the finance sector. This year too finance continued to be the major recruiter during final placements 2011 at b-schools around India.
Major finance companies like Goldman Sachs, Nomura, JP Morgan Chase, Religare, SBI capital, American Express, Standard Chartred, ICICI Bank, Axis Bank Barclays Capital, Citi Global, Deutsche Bank, HSBC Global, BofA-Merill Lynch, Morgan Stanley and Olam International among others recruited in good numbers.
Many finance companies also offered roles at international locations like Singapore, London, Hong Kong, New York, Dubai.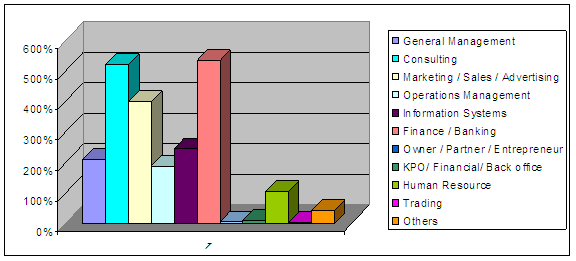 Finance firms dominated placements at IIM Bangalore recruiting 36 per cent of the total batch of 348 students, 31 per cent at IIM Calcutta, 32 percent at IIM Kozhikode, 41 per cent at IIM Shillong, 36 per cent at JBIMS, 33 per cent at IIT Delhi and 33 per cent at FMS Delhi. It also dominated the campus recruitment at other IIMs and b-schools.

The next top runner in terms of campus recruitment was consulting firms. Consulting majors like BCG, Bain & Co, AT Kearney, Accenture Business Consulting, Cognizant Business Consulting, TCS and Essex Lake group among other recruited in good numbers. Global consulting firms felt their presence at campuses around India, offering roles at international locations like Singapore and Sydney.
Another most preferred sector was marketing/ sales/ advertising. Marketing firms recruited 33 per cent of batch of 203 students at FMS Delhi and 32 percent at BIM Trichy.
Concluded.
.