VGSoM IIT Kharagpur Placements 2011: 20% batch gets PPO offers from TATA Motors, Deloitte India, Wipro
| May 16,2011 10:47 am IST
With Batch of 2009-2011 securing some of the best job offers in the country, Vantage 2011 culminated in VGSOM, IIT Kharagpur and yet again established its reckoning as among the top B-Schools on the offering. With the 100% batch getting placed with an average salary of INR 12.
02 Lakhs per annum and profiles worthy of the remuneration magnitude, Vantage 2011 was a resounding success. Apart from the regular recruiters, many new companies joined the bandwagon and reposed their faith in the coveted B-School. VGSOM attracted 15 new companies this year which constitute 33% of the total companies that visited the campus. The season began with 20% batch getting PPOs from reputed companies like ITC, Reckitt Benckiser, Hindustan Coca Cola Beverages, TATA Motors, Deloitte India, Deloitte USI, Nomura, Wipro and IMRB and ended on a high note of 1.25 offers made per student from top recruiters.

Placements Statistics for Vantage 2011
Number of students participated in placements - 94
No of companies visited campus - 45
No of offers made - 117
Highest salary offered (INR) - 18 lakhs/ annum
Average salary offered (INR) - 12.02 lakhs/ annum
Median salary offered (INR) - 10.15 lakhs/ annum
The recruiting companies spanned across sectors like BFSI, Consulting, FMCG, Telecom, Manufacturing, Technology and Analytics with diverse roles like Investment Banking, Banking & Operations, Risk Advisory, Project Finance, Strategy and Technology Consulting, Sales and Marketing, Supply Chain Management, Procurement, Business Development and many more.
Evika Green, an Energy Subsidiary of Evika Group, a first time recruiter offered coveted position of Assistant Vice President to the selected student. Medall, a leading medical diagnostic firm were the first time visitors offering challenging roles in Market Research and Business Development.
Technology and Consulting firms were the biggest recruiters this year giving considerable weightage to the pre-MBA experience of candidates asserting the quality of students VGSoM attracts. 30% of the students opted for careers in each. BFSI, Manufacturing and FMCG followed next with plethora of new companies participating for the first time in campus placements attracting top talent from the coveted B-School.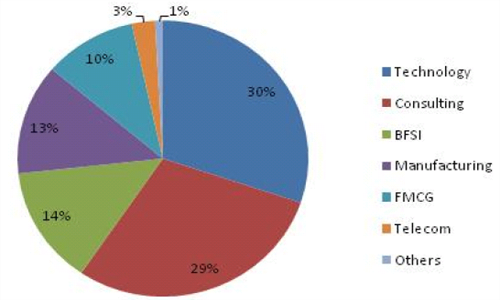 FMCG & Telecom
VGSOM has grown over the years to be the favourite destination of sought after FMCG sector. Procter & Gamble, Reckitt Benckiser and Coca Cola were the first time recruiters at VGSOM. Regular recruiters like ITC, Heinz and UB group also made their presence felt and offered diverse roles like Corporate Planning, Operations, Supply Chain Management, Procurement, Sales and Marketing. Vodafone, our regular recruiter offered profiles in Marketing, Systems & IT.
Technology & Consulting
This sector attracted the largest talent pool from VGSOM. This year, the Big 4- Ernst & Young, PricewaterhouseCoopers, Deloitte (India and USI) and KPMG-participated in Vantage 2011 and offered roles in Business Advisory, SCM Consulting, Strategy & Technology Consulting and many more. Crème de la crème of the consulting sphere like PWC's Government Reforms and Infrastructure Development Advisory (GRID), Accenture Management Consulting, i-Maritime, HCL and Cognizant were the first time recruiters along with regular recruiters like Infosys, Wipro, Tech Mahindra and HP reaffirming the brand value enjoyed by VGSOM in the consulting world.
Banking, Finance & Analytics
VGSoM carried forward the legacy of being a preferred campus for companies in Banking and Financial Services domain. Diverse profiles were offered including Credit, Risk Assessment, Forex, Equity & Fixed income and Banking Operations. The gamut of interested Companies included participants like Citibank, ANZ, Nomura, CRISIL, Cognizant and Union Bank of India among others.
With a booming market, analytics sector offered attractive opportunities to the students at VGSoM this year. Behemoths like Goldman Sachs, HSBC, ANZ, IMRB and Citi Analytics made their presence felt with related profiles in offering.
Manufacturing
This sector, along with regular recruiters like TATA Motors, TATA Telecon, TATA Metaliks and Welspun, witnessed participation from large number of PSUs like Shipping Corporation of India, Bharat Heavy Electricals Limited, Balmer Lawrie, MMTC India Ltd and Rural Electrification Corporation. Students were offered diverse and challenging roles in Sales and Marketing, Operations, HR, Business Development and Infrastructure Project Management. Titan, a TATA group company, was a first time recruiter offering roles in Operations and Marketing.
With hope and expectations comes a bigger sense of responsibility. And living upto that responsibility takes some doing. The roles expected, the locations envisaged and the remuneration desired; Vantage 2011 lived upto what students dreamt of before coming to VGSoM. All in all, this year's placements season was an accomplishment with contentment which is a perfect recipe for success.
Concluded.
.