'My key takeaways from entire Summer Experience'
| July 27,2012 05:29 pm IST
I did my summer internship at Boston Scientific India Pvt. Ltd.
, Gurgaon. I was taken for a marketing profile at the medical devices company. The project consisted of three assignments and a field trip. Though I met my mentor not more than five times during the entire 9 week internship period, he was readily available over phone or on mail. All the employees of the organization were very friendly and helpful. To put it simply, the experience in all felt like a dream come true.

I dreamed for an internship that would give me an overview of the industry and a focused hands-on experience in a business unit. I consider myself lucky because that is exactly what my mentor gave me in the form of different assignments. For about a couple of days, I was taken through each of the business units about what they were all about. Later, I worked on three assignments: (1) segment size forecast for the business, (2) launch preparation for a new product, and (3) marketing campaign planning for the products from a BU.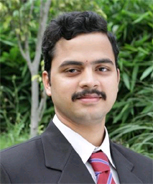 The first assignment was based on a lot of secondary research and I needed to make a presentation to my mentor at the end of it. He listened through the entire presentation and suggested me that I should better tailor the presentation for executive audience. The presentation should start with an executive summary; it should state the assumptions clearly and succinctly, quote references wherever required and give recommendations.

Product launch preparation required a marketing research exercise and a survey was conducted accordingly among various physicians by the sales executives. There are a couple of things I would like to mention here. Sales executives are on the field most of the time and hence most of them check their mails only at the end of the day. They would be so preoccupied with their work that a request from an intern would be mostly likely brushed aside unless it is directed from their bosses. Even if it is directed from the top, because of the monthly targets set to them, the sales executives may not be in a position to visit and collect opinions from the desired set of customers. Well, coming to the physicians like cardiologists, most of them would not answer the questionnaire if it takes more than a couple of minutes. At times, it might be required to take an appointment with a physician and pay the prescription fee. The questionnaire design and distribution of physicians to the sales executives have to be made keeping all these in mind. Field work is undoubtedly the toughest marketing activity. Once the data was collected, it took a day to organize and analyze the data and coming up with insights. It took a couple of more days to make a presentation out of it.
If everything went on so smoothly, meeting your expectations, what would be so special about it? There are a couple of instances when I felt disappointed. First instance was when I found that many private hospitals inflate the prices of medical devices to as high as 200% of the original cost before they bill patients. This shock hit me just a few days before Aamir Khan targeted corruption in the medical fraternity in Satyameva Jayate. I had really high expectations on the healthcare industry I believed that they were the most ethical among all professionals who serve the mankind.

Second instance of disappointment was when things were moving really slowly when it came to data collection. My mentor explained that the delays were partly because the company was still in a start-up mode (in India) and partly because the real world differed a lot from academia. Third, I could not get a chance to make a presentation on my work to the MD. He was a busy person, travelling all the time, and it was tough to get a slot when both the MD and my mentor were available. There is however a silver lining. The MD asked me for a report and said he would go through it.

There are a few key takeaways from the entire experience:
(1)Soft skills matter a lot. Almost 75% of the time I spent with my mentor was into general discussions. This helped in building a good rapport with him in a short span of time.

(2)Keep your mentor up to date. Sending a weekly status update helped my mentor monitor my progress and redefine tasks if required. Escalation was immensely helpful when I hit a roadblock.

(3)Do not procrastinate. Though one of the assignments required a lot of secondary research, rationing the work and doing it daily gave a clear direction. Because I worked on it every day, I could also get a few insights which I am sure I would not have gotten otherwise.

(4)Document your work whenever you reach a milestone. Making a word document or a presentation came handy in two ways. I could cut down on the time I needed to spend for making my final resume. I could send the report immediately when people from the top management asked for it.
Concluded.
.