A FanTAStic Journey: Summer Internship Experience of an IIM Indore Student
| July 31,2012 10:46 am IST
I still believe that I could have won the largest lottery in Vegas that day. TAS had visited my campus, the Indian Institute of Management, for the first time and the campus had been buzzing with excitement about it for quite a few days.
After an intense group discussion (tackling eleven cases in sixty odd minutes is no joke!), a versatile personal interview and a nerve-wracking wait, I was given the good news. The fact that I was chosen to be the sole representative of my campus for the summer internship was both surprising and humbling. Thus followed the long wait for the internship to start during which time I gathered enough information about the experience from previous TAS interns that I couldnt wait to start my own experience.

D-Day finally arrived when the coveted mail that would inform me of my location and Tata Company, appeared in my inbox. With my heart set on Mumbai, I was already dreaming of long walks on Marine Drive and late night chicken kebabs at Khan Chachas. However, after reading the mail it took me quite a while to digest two important facts (a) Company TCS and (b) Location Gandhinagar Gujarat. As a person from a completely non-IT background, I was instantly alarmed at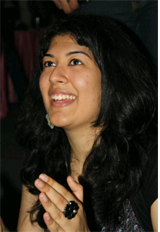 the prospect of doing a summer internship at TCS. I had sudden visions of me hunched over a computer, writing and re-writing volumes of code while fellow employees laughed mercilessly. Ironically the former part of the previous statement did come true. And Gandhinagar? I had never heard of the place, let alone be able to point it out on a map! More good news came in when I found out that chicken is a rarity in Gujarat and the entire state has one KFC. My anxieties were considerably lessened when I found out that there would be six other interns with me at TCS Gandhinagar.

The internship started with a bang at the Taj President at Bombay. The orientation was held there and I ensured that I ate enough chicken to at least see me through the following week (not a good plan as I was craving chicken forty-eight hours later). Before I knew it, the orientation had ended and the seven of us were on a flight to Ahmedabad. It was a relief to find out that most of them were as clueless about their project as I was. Upon reaching Gandhinagar, all of us quickly retired to our rooms and got ready for our first official day at TCS. I vaguely remember dreaming about computers that had grown legs and were chasing me around a table. Clearly my subconscious isnt too confident about my technical abilities either.

The first day at TCS, like many other first days, was all about meeting with the team, getting familiar with company policies and finding out that we could even come in by 10am! My worries about getting an IT-intensive summer project were soon laid to rest as I interacted with my team and manager. After a fruitful interaction, I met up with the other interns and we all shared our interesting stories and experiences of the day. All seven of us had got different projects under a common broad domain and there was a lot of scope for learning from each other.

Over the next few weeks I nose-dived into the project (and by that I mean my nose was about ten inches from the laptop screen at any given point of time) and interacted with various types of team members. From technical team members who educated me on certain IT technologies relevant for my project to functional team members who were only too glad to be my sounding-board I learnt far more than expected in just a few short weeks. It was also very motivating to have a manager who was only too happy to guide me no matter how busy he was. From gossip coffee breaks to impromptu birthday celebrations, I quickly adapted to life at TCS and thoroughly started to enjoy every moment. Although I have about 3 months of work-experience, this was the first time I was involved in such a wide-scoped project, the complete planning of which was left to me. It was an exhilarating feeling to be working on an issue that the company was currently facing and needed guidance on. The knowledge that I got when sitting with senior team members and discussing the feasibility of my recommended options is more than any textbook or case study can ever hope to divulge. However, the work-life was just one half of what made my internship so special.

When you are stranded in a city where the most exciting way to spend your Friday nights are at a local Caf Coffee Day (courtesy loud music and lots of sinful chocolate), you become really thankful that there are others in the same situation you are. I had the good fortune of meeting some of the best minds from the most acclaimed business schools across the country. Whether it was giggling at silly dorm stories or getting extra information about that acquaintance who joined the other school, the days at Gandhinagar really started to fly by. Add to that the coveted trips to that one KFC and watching a movie in Gold Class for less than two hundred rupees and you get memories that will last a lifetime.

Of course all good things come to an end, and it was soon time to head back to Bombay for the final presentations. TAS has a unique PPO process wherein if you are found suitable, a job offer is extended to you immediately. Unfortunately, I was not one of the chosen few and for a few hours, no amount of chicken could console me. However, I realized that I had given it my best and that I was walking away with sufficient amount of knowledge and experience that were sure to help me in the coming years. Plus I got a whole day to explore Bombay to my hearts content!

A Chinese proverb states Even the longest journey begins with the smallest step. I truly believe this internship was an important step towards me becoming a valuable member of society.
Concluded.
.