I felt I could survive in this world: Summer Experience of TAPMI Student
| July 27,2012 02:04 pm IST
The mood was frantic, it was the first day of our Internship week and we had a famous FMCG company knocking at the doors of our college. I was actually worried about something else.
It was the first time I was wearing a suit and I did not want to look like a joker. I was so conscious about my dress that I never noticed the tension on peoples face. Fortunately I cleared my first round and the second one was a personal interview round. This was the time when I cursed myself for not watching enough Bollywood movies. I started the Most-answered-question-in-this-world by talking about myself. Not even a minute into my clichd speech we suddenly digressed into my unsuccessful love life. Now I was in my grounds and the audience seem to be engrossed in my story. At the end of the climax they asked me a very tough question. Beta do you know Hindi? Having born in a Tamil family is not my fault. Though my second language was Hindi it always gave me the worst nightmares.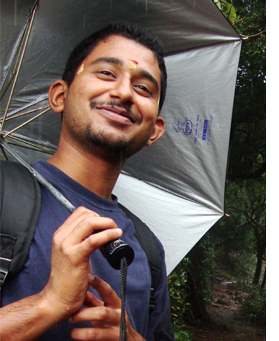 I swallowed hard and told in a typical Tamil accent Sir thoda thoda maalum adjust kar saktha hoon. It was because of the adrenaline rush to land up in this lucrative job. It was a dream company for many of my colleagues and I did not want to miss the opportunity. I could see the devils horn light up on the heads of both of my interviewers. The next 5 minutes of conversation I had with them in my own Hindi was the most embarrassing moment in my life till then. At the end I could see the HR lady on the floor trying to control her laughter. I was not upset but then I got back to the room and slept off knowing for sure that I would not get through. Few minutes into my sleep I get a call from the MIP team asking me to come to the academic block immediately. I was wondering what could have happened. I was standing there in front of my interviews in a Jeans, a funky T-Shirt and floaters when everyone else in the room was dressed like a typical CEO. I was told that I was one among the selected candidates and they left the floor open for questions. The only question I asked was Sir should I learn Hindi?

Bangalore was my reporting office and I was there in a small room with a bunch of strangers who all had this My IQ is 140+ attitude. We were briefed about the company and other essentials. The first week we were asked to work in Bangalore. The first day anyone works in a new job he/she will have this feeling that What shit is this company doing? They can do much better than this. I can suggest a lot of things. You will all be pumped up but soon you will realize that this is how the world has been functioning and this is how it will continue. Thats the nail on your head and the first one in your coffin. I could not enjoy my first week in Bangalore as I was on field from 10 to 6 with a not so happy salesman. At the end of the week we were told about our individual objectives and our place of work. When the HR was reading out my objectives I could here only one word Chennai. We passed the usual pleasantries and I packed my bags to home.
More than the advantages there are a lot of disadvantages when you get to do your Internship at your hometown.
Advantages:

Home food. Mom, Dad and friends.
No money spent on room rentals and you have your Dads pocket to burn.
Pleasure of sleeping in an A/C room when the temperature outside is 40+ degree Celsius.
Disadvantages:
You become a lazy bum. You keep telling yourself that you will do it tomorrow and that tomorrow will never come.
Your parents will pamper you to such an extent that you forget about the job you are supposed to be doing.
Your friends are such bastards that they will call you for a movie or a drink every night and ask you to pay for it giving your to be obtained stipend as a reason.
You put on so much of weight in so little time that people will find it difficult to identify you.
Free internet will give you the pleasure of watching those religious movies which you could not watch in your hostel rooms.
I was engrossed in these disadvantages but then I did manage to work. One thing you cannot deny about South Indians is that they are all very helpful in nature. I had to collect details about our competition in Chennai for which I had to interview their distributors and Sales Officers. Every single person I interviewed was a gentleman of the highest order. Every single Sales officer I worked with, every single wholesale outlet I visited for my second objective turned out to be friendly and helpful. I will never forget my industry guide for the man he was.

I will be lying if I tell that every day was a new experience. But I liked it, I liked travelling in the bike with my entire body covered so that I could retain the little colour I had, I liked interacting with the people I had to, I liked going to the retail and wholesale outlets, I liked sitting at the distribution point and wondering What should I do to get a PPO?, above all I liked the fact that my parents were proud thinking that their son was working hard under the hot sun. The outcome of my internship is that I felt better about myself, I felt I could survive in this world, I felt that I could live without learning Hindi and above all I felt that even I could make my parents feel proud.
Concluded.
.