Love it or hate it, you can't escape it: Summer Experience of Student of a leading B-School
| July 27,2012 12:25 pm IST
Dressed up as they want me to
Conforming to the code they set up
Spending my time as they deem fit
Running a race which they designed
The garb masquerades servility.
This small poem that I had written, heading into the second week of my summer internship, speaks volumes about the conundrum that I was whirling in.
My internship was with a company which is a leading brand in the Appliances market. Without divulging more, I would just add that my project was related to market research. Students slog it out for so many months on a trot, burn the midnight oil to prepare for CAT and get into the prestigious IIMs, thinking that it'll open the doors to a whole new world where they would be treated as Greek Gods. Alas, the summer internship mars all the utopian dreams that one had built. Although we do get to hear a lot from the seniors and friends in other B schools about the stark reality that shakes one up during the internship, we do have a tendency to cling on to our favoured picture unless experienced first-hand.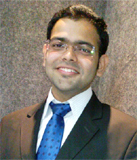 I landed up in Mumbai, filled with vigor and hope of enjoying the two months of internship, learning and exploring. I was putting up in the hostel of a premier B school, which is indeed a heaven in a city like Mumbai. Anyways coming down to the first day, I was informed that the induction program had got postponed. So I was now expected to meet my mentor and start work straight away. I went ahead to meet him with a hope that Ill be greeted warmly. But alas it wasn't to be. He kept me waiting for a good forty minutes and finally when he did meet me, it was as if I was a burden that had been loaded on him. After getting the brief about the project, I now had to move around searching for a place to sit and a computer to work on. The Human Resource department had already expressed its inability in helping me arrange for any of the aforementioned stuffs.
Being the only intern in the department was tough for me. With no one to interact with, I tried to gel with the employees around, but it seemed as if they had certain reservations for interns. No one made a poker face or so, but whenever I asked for any assistance, my request was given the least importance. I did learn the trade of making repeated requests politely without losing my cool.
The third week of my internship is when the real action started. I started my on field duty that is moving around in the markets of Mumbai. They rightly say that sales is the foothold of marketing. With a stack of questionnaires in my hand, I started going around with the sales officer. The tussle that exists between the sales team and the marketing department became all too evident to me in a couple of days. On face they all get together well, but behind each others back they keep bickerin. And what to tell about the market which is a potpourri in itself. I got to see all kinds of responses ranging from heightened appreciation to utter disgust. Eliciting response is one hell of a tough job because no one is willing to part away with his time without seeing any gains in it. Don't be astonished if you are mistaken for a salesman and shooed away. By the end of it, three weeks of surveying in the sweltering heat had taken a toll on my health.
When your internship is a paid one, you tend to start thinking of saving a sizeable chunk of it whilst planning to buy that something that you had so long been thinking of. But let alone saving, when you are in a city like Mumbai where you rush to the ATM more often than you do to the loo, youll always end up falling short of the money well before the month end. It's a feat if you manage to run all your expenses with the stipend, leaving aside the hot shot interns who get paid exorbitantly.
'It's not about how hard you've worked; it's all about the presentation.' This brings me to the concluding part of the internship process that is the final presentation wherein you have to pitch in with your suggestions in front of an illustrious panel. Squeezing your two months of work in a power point presentation is not an easy task. Especially when the stalwarts of the company are supposed to be judging and questioning you, the apprehensions do grow. For those who are looking for a PPO (Pre-Placement offer), this is their best shot at it. This final judgment usually carries the maximum weightage. As for myself, I was too tired of everything around and didn't care about who I was presenting before. With no nervousness whatsoever, it went about just fine for me.
Trying to focus on the goods of the internship is a bit difficult for me, yet Ill try to. The fact that one is free after the office hours is a respite in itself. With no case studies, no assignments and no lectures, it does come across as a welcome break. Some of the interns also end up hooking up and making friends with fellow interns and adding spice to their otherwise mundane two months. By the end of it, everyone has a clear picture of how different the corporate world is from the way it is portrayed in theory. Many of the students even end up sprucing their electives for the second year.
With this I come to the closure of my story. There isn't anything preachy that I want to share with you all. The internship is a unique experience in itself and just like a B-school, love it or hate it, you can't escape it.
Concluded.
.