My first step into the corporate world ended on a high: Summer Experience of IRMA Student
| July 27,2012 05:09 pm IST
Drenched from tip to toe after being thrashed in the Mumbai locals, I almost looked like a beggar in formals standing in front of the huge faade of Reliance corporate park. I started my journey at 8 in the morning thinking of reaching the office by 10 but it was already 10:45 by then.
Somehow I called my reporting officer (RO) and a pass was generated and I reached my office. As soon as I entered my Ro's cabin the whole world turned upside down. I couldn't have imagined a more warm welcome than what I received. The best part was that it was so informal that all my worries disappeared into thin air, not to mention of my sweat which already has due to the air conditioned interiors. For a brief period of about 15 min I felt like a royal guest being offered tea, snacks and best wishes. What more can an intern ask for than a nice cosy cubicle that too in a secluded corner to catch a nap if needed. It was hardly few minutes after I was being introduced with my fellow office mates that a bundle of documents came crashing on my desk and my RO asked me to go through all these to get a feel of what's going in the organisation. Oh man! It's my first day, I thought helplessly.

As soon as my RO left my cubicle I started to delve deep into my chair with a mood of relaxation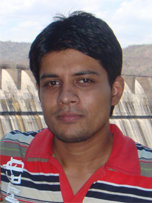 and I felt like being a king. It was a nicely organised cubicle with all the so called formal amenities like a PC, intercom etc and the best part were that it was spacious. After around an hour or so, my reporting officer introduced me to all the employees on my floor and now I had started feeling myself to be a part of the organization. The first day ended quite well.
The next day was fine as I had become familiar with the surroundings at my workplace and so I felt comfortable. I had my meeting scheduled with some senior project managers where I along with two other interns was to be allotted our part of the work to be done during the next two months. The meeting lasted over two hours and I got a feel that the senior managers were trying to have a feel of our knowledge base during the meetings as they were constantly throwing us with witty questions regarding the project. My project was to do a comparative study of the HR practices which are being followed in other development organizations similar to Reliance Foundation and the Mentor told me that I would be able to complete my study well then it would be very helpful for them to incorporate changes in their manual. This gave me some motivation as well as some fear to do my task up to my level best and I left the meeting room exuding confidence.
The next few weeks passed in a hurry as I remained very busy formulating my questionnaires and to chart out my way to go for my project. This was the first time when I got a hint that classroom learning does make sense. I travelled across eleven organisations interviewing their HR teams to collect my data. The next part was the documentation of the gathered data into information.
The later part of my internship was a bit relaxing due to the amiable work culture of the office. The friendly work culture although worked well for the employees but I got a taste of its other side after about a month in the office. I was in the HR department and the recruitment of new employees was on full swing. There was a lot of extra work to be done and I got a feeling that a lot of extra work is being passed on to me which had nothing to do with my project. I didn't know who to address the problem as my reporting officer himself was in the chain and it was taking lots of extra efforts to complete them. However the bad patch ended soon. The last few days were quite frustrating due to the amount of documentation of reports I had to do.
Yet a sad feeling of leaving the organization crept inside me although I had some of the finest memories to cherish for my life as my first step into the corporate world ended on a high. How come I became a part of the office comprising of 150 employees during my short stay is still a mystery for me to unravel.
Concluded.
.