Summer Internship: Experience Overpowered Expectations!
| July 27,2012 04:55 pm IST
I did my internship at Jaipur Rugs Co. Pvt.
Ltd. (JRPCL). It is a midsized family run business founded by Mr. NK Chaudhary. They are manufacturer and exporter of handmade carpets. A feather in the cap was added when CK Prahlad published companys Business Model in one of the bestselling books Fortune at the Bottom of the Pyramid.

It was for the first time that JRPCL came to our campus for summer internship. I was motivated instantly to get associated with Jaipur Rugs Foundation (JRF) which is socio-economical rehabilitation wing under the company. It works for the upliftment of poor carpet weavers in the villages of northern India. The weavers who get training provided by JRF in turn weaves carpets for JRPCL, which buys these carpets from them and later exports them. Working for such a company was like a dream come true.

I was about to have my first hand experience with the corporate world. It was my first trip to Jaipur as well. JRPCL has a very friendly kind of an environment and to know the interns better; myself and other 7 interns were invited to watch an IPL match with the Director of the company (Again, my first experience of watching an IPL match Live) at Sawaiman Singh Stadium. That time I was supporting the defeated team but I enjoyed a lot. The experience was mind blowing. This get together gave me opportunity to know other interns better and thus we all became friends.

Next we went to a village called Narhet (as a part of our Orientation Program) to get the know-how of how JRF works, what are the things and elements which are helping JRF to get fruitful results like increasing literacy rate of the village etc. It was really a very good experience; talking to villagers, knowing their problems and exactly how JRF helped them in increasing their standard of living. That day we had lunch in one of the houses in the village; the curry, the rice and the chulhe ki roti all were mouth watering! That day reminded me of my rural visit through our institutes Rural Immersion Program.
After spending few days, I got an opportunity to be a part of an online campaign by JRF called Dear World. I was supposed to put some quote on my hands and the photo clicked was posted on the JRF website. The idea was to motivate people to believe in those quotes. I was amazed by the responses that campaign got on Facebook.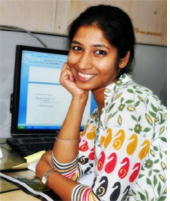 Through JRPCL, I got opportunity to meet people from different parts of the world. An intern from Argentina, Solange, a student from France, Coco and a fellow student from Romania, Daniela, we all became friends. Talking to them made me realize how different yet so similar the people are all over the world. We all have different culture but when it comes to emotions, we all are at the same page. Solange and I being from same department used to chat a lot at lunch and tea time; Daniela and I shared birthday and Coco used to use bin as basketball loop. We all had different accent for same English but still used to chat and laugh and work together.
After having a hectic first year at IIM Indore, the internship gave me a lot of extra time to try new things. I wrote poems, improved my blog page and the best of all, I gave an interview to a website. The topic of the interview was How to take out time for hobbies through our busy schedules. My interview was published as Hobby Series - Anjali finds her love for writing poetry. It was something I wouldnt have got time for while studying. Jaipur, a city known for its harsh summers was also very generous on me with few days of rains which made the weather good for knowing Jaipur better. As it was my first trip to Jaipur, I got the opportunity to explore the city.
The Nahargarh fort, famous for the movie Rang De Basanti shooting, is a must-see tourist spot for youngsters. The best view was watching the whole pink city from the top of the Nahargargh fort, and admiring the beauty and architecture of JalMahal from there. The Albert museum is one of the other good things about Jaipur and not to forget bargain shopping at Bapu Market. The whole summer internship experience was colorful with all kind of emotions. It was one of its kind experiences with many things happening for the first time in my life. I enjoyed because I was not expecting anything in advance because it kills the fun if things are not upto expectations. The project and the tasks regarding the project gave me lots of insights about how the market works.
My summer internship also told me the dos and donts of the corporate world which will remain with me whole of my career.
Concluded.
.