Summer Internship Guided me for my Future
| July 30,2012 03:36 pm IST
A Black Mercedes just passed my back in a jiffy as I crossed the scorching road to enter Rajendra Nagar Metro Station of Delhi. Inside the Metro, there was long line of about 100 people for security check; clearing that line, on the platform there were more than five times more people as there were in the security line.
Well, last time when I had been to Delhi, I had never seen such a crowd at Metro during my entire stay for CAT GD/PI process. I asked one, Is there some technical fault beforehand which has caused this gathering? And then came to know that that was the peak time for Metro as daily office-goers use Metro during this time interval.

That incident made me nervous on very first day of my Internship. As in college campus life used to mostly peaceful with almost no rush and here in real life situation is just contrary to that. Somehow, I get used to that rush, that crease-breaking crowd of Delhi and tried to concentrate on my project.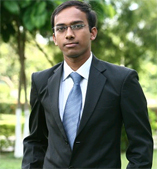 While interning with a startup firm in civil consultancy sector, I have had seen that corporate practices and working conditions were not up-to that level as we usually dreamt about during college life. Everywhere, people used to act only when the situation/ project reached to critical/deadline phase. Especially in manufacturing sector, managers used to act only when condition of buildings/machinery reached its critical phase of collapsing. And that situation too arose due to their negligence to maintenance of fixed assets. Also, at lower level, decisions were usually taken on intuition level and rarely on established methodology or that been taught to Engineers/ Analysts in their graduation classes. Very few people were self-motivated to complete their project/ tasks within deadline, else just keep-on deferring. Maybe, that was due to lack of efficient HR policy in these SME (Small and Medium Enterprises) or maybe that was due to lack of experience and talented personnel.

Leaving these malpractices aside, talking of people; and what I have found that even in the firm where I have interned is that rather than qualifications, learning of the personnel matters. Like, job of a civil diploma holder was being handled by a computer science diploma holder and that was contributed to his dedication and learning. Well, I dont have any problem with that but what I feel that if a civil diploma personnel would have been engaged into that he/she might be much more efficient and could contribute to advancement/ modernization of tasks supposed to be carried by him/her. And all those mismatches are mainly contributed to mismatch of opportunities available to job-seekers. Because of fierce competition adding on to favoritism, seekers used to get occupied to whatever they are getting at satisfactory level. But its these mismatches that prevent the advancement of running technology or methodology in all the sectors.

But in line of all these generic problems, there are few people who in-spite of not being well off from family has taken the risk of starting their own firm in newer and undiscovered sectors. Just on the basis of their knowledge and courage to have a business of their own. And I am saluting to these entrepreneurs because of one incident I had during my Internship. And that was:
I used to visit every other mall in the town. And on my way inside the mall, seeing the buying behavior of people or consumption by them make me think, 'Why medium class people still used to visit mall like a tourist place'. And then I think, 'Isn't it possible to reduce the economic gap between the rich classes and the middle classes'. And an obvious answer comes to my mind and i.e. Its education only that can bring this disparity down.

And then one day, while passing through the Eros tower of Nehru place which is office ground for most of the merchant banks of Delhi like I do pass that every other day; but on that day I thought after being educated even from the best institutes of the country, these middle class educated youths join these banks because of attractive perks and salaries. But what they are doing there. Most of the times, they are just managing the wealth of the rich people. Those rich people who in-spite of not being that much educated or intellectually smart but have the presence of large sum which are leftover by their parents or grand-parents either in form of land, kind or cash.

And through wealth management these best minds from middle class families further increase their wealth, through trading or investing multiplying their worth number of times and in return getting only a fraction of that.

And then I realized the importance of Entrepreneurship in life of a middle class youth. It's only through this you can come at par to those ultra high net worth individuals as it not only give the equal return as per your effort but also it's the only way of rising at the fastest path with best ever exposure you can get anywhere in any other field. But the only thing you have to have is risk taking capability and be foresighted.
And that Entrepreneurship is being practiced by the owners of these startups. This Summer Internship has not only shown me the summers of life but also guided me for my future; which I was unable to decide throughout my engineering days.
Concluded.
.