Faculty of Management Studies, University of Delhi, Delhi
About FMS, Delhi
Founded in 1954, Faculty of Management studies, Delhi pioneered the concept of management training in India. The first institute to provide management education in the form of a part time MBA program for professional managers, it has since then been in the fore-front of this specialized field.

With a full time MBA program since 1967, FMS has established itself as one of the top management institutes in the country.
FMS operates from two locations, both prime in their own ways - the North Campus, as well as the South Campus of Delhi University. It focuses on management education more than just business management. The commitment is thought leadership with a deep understanding of business. The approach to pedagogy combines fieldwork, case studies and instrumented feedback with a strong emphasis on concepts and theory. The intent is to encourage intellectual curiosity and open minds to the adventure of ideas.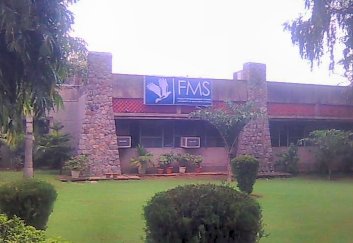 Faculty Of Management Studies, Delhi Outer View
But much about the school is not just about what is taught within its confines. FMS has the unique privilege to be part of one of the premier universities world - the University of Delhi - with some of the finest departments in Economics, Law, Sociology, Commerce and Operations Research. Our collaborative approach involves inputs from various departments that gives the benefit of a much wider view and deeper understanding. This is indicated by the success of our alumni who are in positions of leadership in industries & governments across the world. The network of more than 9000 alumni gives students unmatched access to information, mentors and careers.
FMS has exchange programmes and collaborative arrangements with leading industrial and business houses, management institutions and professional associations in India and abroad. It is the founder member of the Association of Management Development Institutions in South Asia (AMDISA) and is working towards regional cooperation in management education and development in the spirit of SAARC. FMS is also one of the participating institutions in the India-EEC Exchange and Co-operation Programme for Management Professors.
In appreciation of its contributions, the Industrial Finance Corporation of India and Amway Corporation have created chair professorships in Industrial Management and Entrepreneurial Development respectively. Shanti Prasad Jain Advanced Management Research Center as a research and development wing of FMS has been setup at the University of Delhi, South Campus with assistance from Bennett Coleman & Company Limited.
---