Mr. Subroto Bagchi, Co-founder and Vice-chairman, MindTree Ltd. Teaches Basics of Entrepreneurship at XIM, Bhubaneswar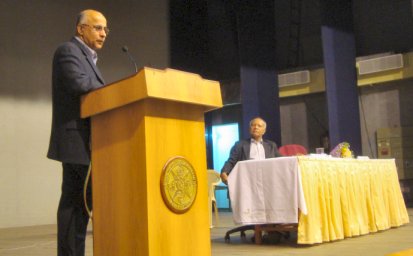 Dr. Subroto Bagchi Interacting with First Year Students at XIM, Bhubaneswar
Mr. Subroto Bagchi, co-founder and vice-chairman, MindTree Ltd, one of the most admired IT consulting firms, was at the sprawling Xavier Institute of Management, Bhubaneswar (XIMB) campus on Friday morning, for an hour long interaction with the first year Business Management students. Successful entrepreneur and author of best sellers like 'The Professional','Go Kiss the World' and 'The High Performance Entrepreneur', Mr. Bagchi spoke at length about the do's and dont's of entrepreneurship, taking risks in life, and going down the path not travelled before.
Mr. Bagchi, who hails from Patnagarh in Orissa, cited the example of Mrs. Sangamitra Jena, who went from being a city tour guide in Bhubaneswar earning two hundred rupees a day, to establishing a tour company offering trips to Bhitarkanika National Park, whose turnover crossed the one crore mark last year. "You can have loads of competence", he said, "but unless you take initiative, you're not going anywhere."

---
Contributed by -
Kalpesh Kela,
Coordinator & IlluminatiX,
Media & PR Cell,
XIM, Bhubaneswar.