JBIMS, Mumbai Hosts Mr. B. S. Nagesh, Vice-chairman, Shoppers Stop
Carrying forward the tradition of encouraging continuous and enriching interactions between the students and industry luminaries, JBIMS played host to Mr. B. S. Nagesh, Vice- Chairman of the retail behemoth Shoppers Stop.

He joined the K. Raheja Group in 1991 to set up their retail business and has been the voice of Indian retail for the last 10 years. He conceptualized Shoppers' Stop, today India's largest chain of department stores - grown from 2,800 sq ft of retail space to 450,000 sq ft.
Fondly referred to as BSN, he is the winner of a number of awards and recognition for both himself and Shoppers' Stop. Business India voted him as one of the 50 managers who will influence Indian business in the 21st century.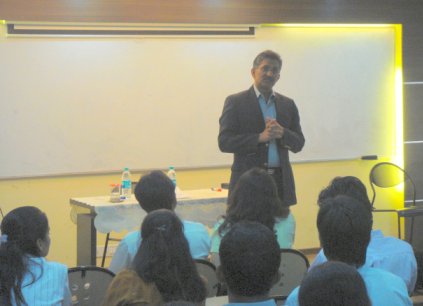 Mr. B. S. Nagesh interacting With Students at JBIMS, Mumbai
Mr. Nagesh explained the nuances of the retail business in India- "Retail is the simplest business, but complicated to manage". He went to elaborate on the paradigms of One - One stock keeping unit, One Customer & One Square foot. All these compiled together give us that 'One Moment' and how you manage these multiple times is retail business in reality.
Stressing on the importance of stretching one's horizons, he urged the students to grab opportunities and make the most of them and make success even of the failures. He emphasized "Responibility and Accountability go hand in hand- have the power to use your authority but along with responsibility". The batch was introduced with various strategies of marketing and brand building, such as monitoring competition, gaining consumer insights and just knowing that your consumer is everything.
The session endowed the students with invaluable mantras for marketing and for life which will continue to inspire them throughout their management careers, specifically his 3F theory on careers-Functional, Financial & Fame. If one chases Functional satisfaction, it will surely be followed by financial benefits backed by Fame.
Concluded.

---
Contributed By-
Dishant Shah & Sameer Dohadwala,
The Corporate Relations Committee,
JBIMS, Mumbai.