IIM Lucknow Organizes Blood Donation Camp
On 1st February 2009, Bhavishya, the Social Initiative Group at IIM Lucknow and Aakansha Samiti, a non-profit organization active in Lucknow, organized a Blood Donation Camp in the campus premises. This camp was organized with the help of CSM Medical University.
Volunteers from IIM-L and Kendriya Vidyalaya staff donated blood which would be utilized for the treatment of cancer patients, especially children at the CSM Medical University, Pediatric Ward, and other needy women patients. Despite having classes on Sunday, a lot of students turned up for the noble cause.
The first to donate blood was Dr. A. S. Mishra, Institute RMO for IIM Lucknow, and he was followed by enthusiastic students including Bhavishya Committee Members, Saurabh Job, Siddhartha S., Shirish Pathade, and more than 80 other students.
Aakansha Samiti has been doing yeomen services for the deprived sections of the society in Lucknow for more than 20 years. The Samiti was represented by its President, Mrs. Usha Gupta, Vice President, Dr. Pratima Bhatia, Joint Secretary, Dr. Lekha Idnani, Dr. Ratna Bhatia, Mrs. Usha Singh, and others.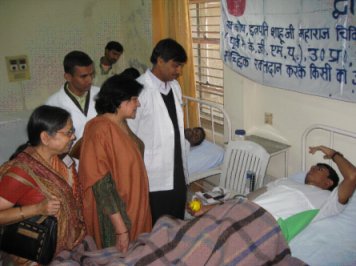 Aakansha Samiti Members Overseeing Blood Donation at IIM Lucknow

---
Contributed by -
Manish Dev,
Media Relation committee,
IIM Lucknow.