Page - 1
Once upon a time, a professor from Kellogg School of Management painted a picture of having a B-school in India which would walk the same steps with the best in business. In 2004, the first batch entered the premises, and since then the school has travelled a long way. It was a journey marked with innumerable pot-holes, speed-breakers, railway-crossings and dead snakes. At times, it was raining, so heavy that the umbrellas would seem like leaves. The trip went on.
And when the school reached a certain amount of stability, the pressing need for a new campus was felt deeply by the Great Lakes fraternity. One said, "The school has the best faculty that other Indian B-schools can only stare with an eye of un-diminishing envy. A curriculum that is well-merged with the global scheme of things, and the quality of the batches is getting exponentially better with each passing year. What we perhaps need to think about is an icing on the cake. And what better way to have that than have a full-fledged state-of-the-art campus."
The thought was put on paper, the plans were frozen, and sent off for implementation. Varsha & Pradeep, celebrated architects were roped in to come up with the campus blue-prints. It wasn't a matter of any surprise when they proposed a beautiful prototype of the structure. Mr. Godrej (of the Godrej Industries fame) was one of the pioneers of the concept of Green Building (like The Godrej CII Green Business Center, Hyderabad). Inspired by the same, it was decided that Great Lakes would have a platinum-rated, state-of-the-art, green campus, the first of its kind in the country. MARG, a major infrastructure firm won the contract of making the campus ready for the Class of 2010.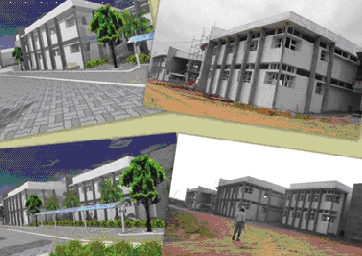 The Main Blocks of the New Campus of Great Lakes Institute of Management

---
* Contributed by -
Suryya Sarkar & Prakash Randheer,
Class of 2009,
Great Lakes Institute of Management, Chennai.
Posted on March 28, 2009.