Brahma Kumari Sister Shivani Delivers Lecture on Stress Management and Coping with Uncertainties at IIM, Lucknow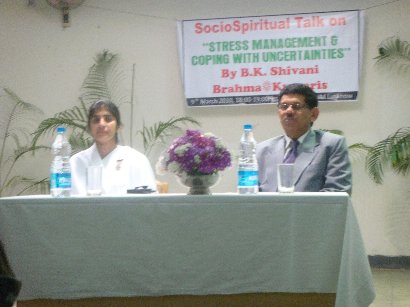 Brahma Kumari Sister Shivani During her lecture at IIM, Lucknow
"I create response" "I have the choice to choose my thoughts" "I choose stability" These mantras by Brahma Kumari Sister Shivani resonated in the fully packed hall at IIM Lucknow last evening. This socio-spiritual talk was delivered on stress management and coping with uncertainties for the upcoming generation of managers of India Inc.
B. K. Shivani is a Rajyoga Meditation Teacher who has been studying spiritual knowledge and practicing the ancient technique of Rajyoga Meditation, as taught by the Prajapita Brahma Kumaris Ishwariya Vishwa Vidyalaya, Mount Abu, for the past 12 years. She conducts motivational courses through seminars and television programmes.
With the serenity of a saint, Sister Shivani immediately struck a chord with the students and faculty at IIM Lucknow. She says "Uncertainty today is a way of life. What is more uncertain today, is how we respond to a situation that the situation itself". Students could immediately relate this with the upheaval in the markets last year and how unpredictable their jobs and lives were.
Sister Shivani's radio and television shows are very popular with the students on campus. Sushovon, a first year student, says 'I have been listening to her talks for some time now, it was indeed an honor to interact with her and gain insights'. A senior Professor also said, "We could immediately relate her thoughts with what goes on inside the class. It will definitely help me in my teaching and understanding my students better".
All round development of students has been IIM Lucknow's endeavor at all times. Workshops at IIML provide an insight to management of not only brands, portfolios, materials, but also time and thoughts. Time management is nothing but thought management, said Sister Shivani. "Sounds difficult but it is quite easy if one follows the prescribed path", she claims.
Concluded.

---
Contributed By-
Ishani Pruthi,
Spokesperson,
Media Relations Committee,
IIM, Lucknow.