IMT, Ghaziabad Emerges as the National Champion of Tata Crucible Campus Quiz 2010
The National Finals of Tata Crucible Campus Quiz 2010 witnessed an exciting and nail-biting finale at the Taj Mahal Palace and Tower, Mumbai.

IMT Ghaziabad (Satyanarayan and Sriharsha) emerged victorious after a pitched battle, holding-off stiff competition from IIM-Lucknow (Vipin and Nirad) which finished as runners-up and, defending champions, IIM-Calcutta. The Chief Guest for the evening, Mr. Kishor Chaukar, Managing Director, Tata Industries awarded the winning team from with a cash prize of Rupees 4 Lakhs along with a host of other prizes. The 2010 edition of the campus quiz has received a record participation of nearly 3200 teams from across 20 cities of India with Nagpur, Manipal, Ranchi and Guwahati being new additions in this year's edition.
Thrilled with their win, the National Champions Satyanarayana K. and Sri Harsha M. P. from IMT, Ghaziabad exclaimed, "We are very happy to win the title of Tata Crucible National Champion 2010 and this could be achieved only due to the support from our family and friends. This was one-of-a-kind experience that we cannot express in words and we are looking forward to the challenge that awaits us in the grand International Finals."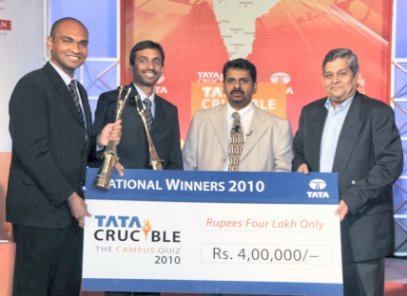 (L-R) National Champions Satyanarayana K. and Sri Harsha M. P. from IMT, Ghaziabad, Giri Balasubramanian, Quizmaster and Mr. Kishore Chaukar, Managing Director
Commenting on the level of participation, the Quizmaster, Mr. Giri Balasubramanian a. k. a pickbrain, said, "To me this was by far the biggest and most competitive Tata Crucible. The high-point of the entire experience was the ability of the teams to raise the bar especially on questions beyond regular business."
The National Finals of the quiz started with a close battle between 8 teams which were shortlisted from the 20 regional winners via 2 semifinals earlier in the day. Each team displayed high-level of confidence and knowledge, keeping the audience spellbound with their quizzing acumen. The format for the National Finals was 20:20 cricket. It consisted of five rounds namely let's toss, stump vision, tata world, third umpire and slog overs, which tested the participants logical and reasoning abilities as well as their speed of thought.
The two-member teams from IMT Ghaziabad and IIM-Lucknow will now gear up to go head-on with the top 2 teams from the UK and Singapore editions of Tata Crucible Campus Quiz 2010 to compete for the title of TATA CRUCIBLE INTERNATIONAL CHAMPION 2010. This grand international final is scheduled to be held in India, shortly. Spread across three countries- The UK, Singapore and India, the Tata Crucible Campus Quiz is the only multi-nation business quiz for campuses.

---