Mridang 10 - the Maiden Cultural Festival of IIM Indore Attracts a Huge Overall Turnout
The IIM Indore campus was bustling with activity, as Mridang entered its second day of existence. The maiden cultural festival of IIM Indore, Mridang hosted some highly entertaining events, attracting a huge overall turnout.

With the maximum events lined up, Mridang came alive with jaw-dropping performances and enlightening workshops and documentary screenings.
The morning began with as many as four events. An exhibition of raw natural talent, the Vocals competition displayed some of the finest performances of Mridang, across events. The event proved to be an aural treat for the music lovers as singer after singer took the stage and gave mesmerizing renditions of popular Hindi film songs.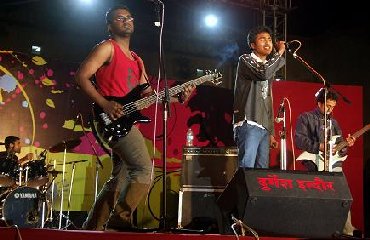 Students Performing During Mridang at IIM, Indore
The dying art of Rangoli making was revived as gifted artists created magic with coloured flour preparing the most visually stimulating patterns on the ground. Participants could smell the aroma of Earth, as they were treated to a beautiful folk performance by the performers invited. A beautiful event, the folk artists gave the audience a taste of the rustic flavor, giving a sense of the agrestic India.
And then there were the show-stealers. Abhinayam, the solo dance competition proved to be a major crowd-puller as the open-air theatre came alive with scintillating performances by the contestants. The audiences clapped as contestant jived on popular Bollywood numbers. Students from various institutes in Indore, Dewas and Ajmer participated in this extremely enjoyable event. UTV Bindass, the official TV channel partners of Mridang 2010, covered the entire event, with the popular VJ Aalya Khan conducting an interesting activity with some of the audience members. The 13 finalists, chosen from 30 entries, danced in two rounds, the cumulative score of which decided the eventual winner.
Cult Icon, the flagship event of Mridang 2010, lived up to its reputation of being the most challenging yet the most enjoyable event. The latent talent in participants came to the fore, as they entertained the multitude with their enjoyable antics. They sang, they danced and even tried their hand at stand-up comedy. The event had a wonderful day one, with an even more interesting day two lined up.

---
Contributed by -
Abhishek Chatterjee,
Member, Media and PR Vertical,
Mridang 2010, PGP-1,
IIM, Indore.