XIM, Bhubaneswar Hosts First Pan India Sports Meet Athlos
Xavier Institute of Management, Bhubaneswar (XIMB) is hosting its first ever pan-India annual B-School sports fest, Athlos.

Athlos heralds the birth of a new tradition of sports and competition among the top B-schools in India, with teams from B Schools like IMT Ghaziabad, IMT Nagpur, IMI Delhi coming down to the XIMB campus in Bhubaneswar to participate. Athletes from these reputed institutions shall be locking horns in a variety of sports events like Cricket, Football, Basketball, Badminton, Tennis, Table-tennis and Volleyball in a bid to earn enough points for their college to lift the coveted Athlos '10 trophy and win prize money to the tune of fifty thousand rupees. The sports fest had a grand launch yesterday and to mark the occasion, there was an inaugural match between the faculty and the students.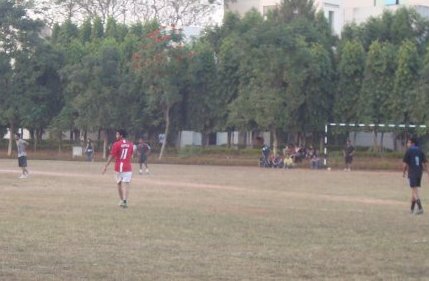 Participants in Football Match During Athlos
XIMB is a B-school that prides itself on the quality and rigor of its curriculum, and the balanced exposure it provides to its students. Athlos aims to make sports interwoven into this culture and foster the spirit of competition to make the students battle ready when they enter the corporate world. The state-of-the-art sports facilities at the XIMB campus include a cricket and football field, a badminton court, and tennis and basketball courts which are equipped to host matches under flood lights, which allow events of Athlos '10 to be held round the clock. There are also events to bring the night alive like Counter-strike, X-cricket (cricket with an XIMB flavour) and JLT, the traditional all night dance parties of XIMB.
Concluded.

---
Contributed by -
Kalpesh Kela,
Coordinator,
IlluminatiX,
Media & PR Cell,
Xavier Institute of Management, Bhubaneswar.