JBIMS Mumbai : Interactive Session with Mr. Siddartha Roy Kapur, CEO, Motion Pictures Gave Students an in-depth insight of Media Sector
It was not surprising that when a group of inquisitive students from a premier B-School with their queries about the emerging corporate field - 'Media' met an extremely dynamic CEO of a famous Motion Pictures company, the level of discussion reached great heights and the interaction extended way past the planned time for the session.

In an attempt towards continuous student development, Jamnalal Bajaj Institute of Management Studies (JBIMS), Mumbai hosted Mr. Siddharth Roy Kapur, CEO, UTV Motion Pictures on campus.
With the illustrious journey that Mr. Kapur has had in a short career span, the students had lots to look forward to. The queries by the students on various aspects related to the media ranged from the role of management professionals in movie making to revenue generating opportunities in the field of media; from the changing audience culture and taste to ways of curbing the piracy issues hampering the industry.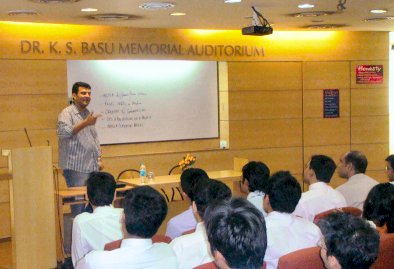 Mr. Siddharth Roy Kapur Interacting with Students During his Visit to JBIMS, Mumbai
Responding to the queries, Mr. Kapur spoke about how the whole business of film making has shifted from the traditional times when about 90% of the revenues were recovered from the regular theatre ticket collections to recent times when even for a mega hit film like '3 Idiots', the theatrical collection would be only 60% of its total revenue with many other revenue generating opportunities opening up. Various marketing activities such as In-film advertisements, satellite and TV rights apart from the music rights add significantly to the revenue generated by the company. Right from the idea generation, to audience research, to budgeting, to marketing of the film, to final Video launch is professionally run in the major media houses while maintaining room for creativity.

---
Contributed by -
Dishant Shah & Sameer Dohadwala ,
The Corporate Relations Committee,
JBIMS, Mumbai.