Humanoids from BITS Pilani win 4 medals in Robogames 2010
Humanoids AcYut 2 and AcYut 3 developed by students of BITS Pilani, won four medals in Robogames held at San Mateo Fairgrounds, California, US.

While AcYut 2 won one Gold Medal under the Sumo category, AcYut 3 won one Silver Medal under the Freestyle and one Silver Medal under the Sumo category and AcYut 3 won one Bronze Medal under the category, Kung Fu. Overall, BITS team secured the 6th place in the medal count.
Robogames 2010, which is the 7th Annual Robogames, the world's largest robogames, featured combat robots, walking humanoids, soccer bots, sumo bots, and androids that do Kung Fu. 17 countries participated in the competition, there were 59 events, 489 entries and 508 robots. Interestingly, BITS was the only institution from India which participated in the Robogames 2010.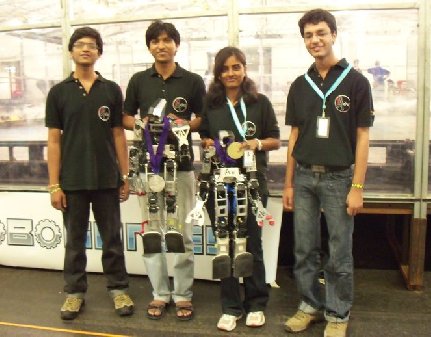 Winners from BITS Pilani with their Medals
Four members of AcYut's team who participated in this year's Robogames were: Ms. Sushma Vallabhaneni (Team Leader), Mr. Akash Gupta, Mr.Tushar Agrawal and Mr. Viveka Nopani.
Describing the AcYut humanoids developed at BITS, Prof. R. K, Mittal, Professor of Mechanical Engineering, who guided the project said that, the AcYut humanoids which are of 92 cm height and 7.4 kg weight, can dance, walk, climb steps and fight. Congratulating the team, Prof. Mittal said, "It is a great achievement since 2008 when our team made a debut in Robogames and were at the 6th position to 2009 when two of our teams participated and AcYut 2  won one Bronze and other bots got one Silver and one Bronze in other categories. In 2010, BITS has again put its team, with AcYut 2 and AcYut 3 and we won 4 medals including one gold and 2 silver and one Bronze. I am very proud of my students for such a marvelous progress in a short span of 3 years. Our team will take it forward for making AcYut more versatile for a variety of applications including industrial applications".  
Prof. R. K. Mittal also informed that the AcYut team is going to participate in the 7th Korea Robot Festival 2010 to be held in Korea on May 14-15, 2010.

---