Nykaa.com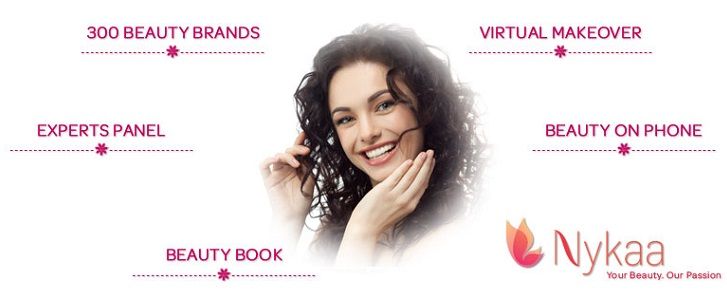 • Nykaa.com is a leading one-stop online store for all your beauty and wellness needs. Nykaa.com offers a comprehensive selection of makeup, skincare, hair care, fragrances, bath and body and luxury products for women and men. All products are 100% authentic, sourced directly from the brands or authorized distributors.
• Nykaa has about 200 brands and more than 10,000 products. Nykaa ships products to more than 900 cities across the country to almost 9,000 zip codes using the services of leading and reliable courier companies.
• Nykaa uses industry standard secure payment methods to process online payments, insuring that all transactions are processed through the PayU payment gateway.
• Nykaa is a beauty and wellness e-commerce platform with a difference:
- An extensive selection of curated beauty and wellness products including a never-before selection of luxury DKNY, Donna Karan and Tommy Hilfiger perfumes ;
- 100 % genuine, fresh products sourced from the brand or authorized distributors;
- Expert advice by more than 20 leading makeup stylists, skin, hair and wellness experts.
- Virtual Makeover tool to 'try' out different makeup before buying and sharing your look with friends.
- The Beauty Book, a fortnightly e-magazine with comprehensive, engaging content such as product reviews, beauty tutorials, Bollywood looks, latest trends and expert interviews.
- A beauty helpline to assist you in choosing products and services best suited to your specific needs so that you look gorgeous always.
Employees11-50
DescriptionIndia's premier online destination for all your beauty & wellness products
More Information
Key People
• Ms. Falguni Nayar: Co-founder
• Mr. Sanjay Nayar: Co-founder
Products / Serviceswellness products, beauty products
Phone Number+91 922 220 1010
Company Office Address
Fsn E-Commerce ventures Pvt. Ltd.
104, Vasan Udyog Bhavan,
Sun Mill Compound,
Tulsi Pipe Road, Lower Parel,
Mumbai - 400013
Web Address: www.nykaa.com