15 Indian Telecom Companies feature in Top 500 Telecom Brands 2012
| June 12,2012 12:59 pm IST
BrandFinance, the worlds leading brand valuation consultancy, has revealed the list of Top 500 Telecom Brands 2012. The list includes 15 Indian brands, with Bharati Airtel taking the top spot among Indian brands and 27th spot world-wide, followed by Idea, Reliance Communications and Tata Communications who appeared in the list at 93, 96 and 163 positions respectively.
Ministry of Communications undertaking, Mahanagar Telephone Nigam Limited (MTNL) is also on the list at 297th position.
BrandFinance Global 500 employs a discounted cash flow (DCF) technique to discount estimated future royalties, at an appropriate discount rate, to arrive at a net present value (NPV) of the trademark and associated intellectual property: the brand value.
Methodology
1. Determine forecast revenues
Determine future revenues attributable to the brand over a five year explicit forecast period. This is done by referencing historic trends, market growth estimates, competitive forces, analyst projections and company forecasts.
2. Assess the Brand Strength
Determine the strength of the brand using the randeta Index.
3. Establish Royalty Rate
Review comparable licensing agreements. Analyse margins and value drivers. Establish average royalty rate range for relevant sector. Apply randeta Index to royalty rate range to determine royalty rate for the brand.
4. Determine the Discount Rate
Determine discount rate to calculate the net present value (NPV) of future brand earnings (accounting for the time value of money and the associated risk).
5. Brand Valuation Calculation
The NPV of post-tax royalties equals the brand value.
Vodaphone United Kingdom topped the list taking up first spot.
View full list here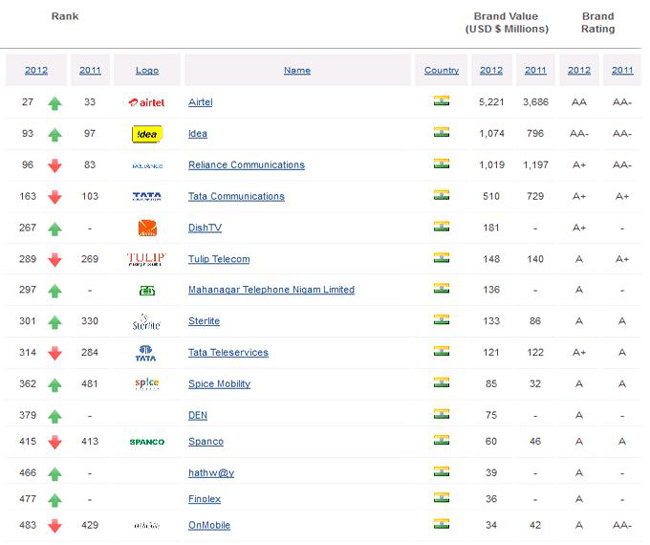 .