Analytics is going to grow further in importance | Gaurav Vohra, Founder, Jigsaw Academy
| October 05,2011 01:23 pm IST
Gaurav Vohra, an IIM Bangalore alumnus, with over 10 years of experience in the field of analytics, has been in the analytics industry from its initial days. His work experience span across leading analytics companies like JC Penney, Wal-mart, IMS healthcare, 7-11, Gap, Walgreens and ICICI Lombard to name a few.
Gaurav is the co-founder of Jigsaw academy, a training institute that aims to meet the growing demand for talent in the field of analytics by providing industry-relevant training to develop business-ready professionals.
CoolAvenues spoke to Gaurav and his business partner Sarita Digumarti on challenges, future prospects, special traits required in the field of analytics education.
Tell us some thing about yourself
GV: I completed my graduation in Economics from Delhi University and then did my MBA from IIM Bangalore. I started my career in the US and I was fortunate enough to join Capital One, a company that revolutionized the credit card business through advanced analytics and predictive modelling. I have been in the analytics industry for over a decade now and my consulting experience spans well known companies like JC Penney, Wal-mart, IMS healthcare, 7-11, Gap, Walgreens and ICICI Lombard to name a few. I have worked on most of the popular analytic software including SAS, Excel, SQL, Clementine (now, IBM modeler), Statistica and various decision tree tools. I have been actively involved in analytics training for most of my working life.
SD: I have an MBA from TAPMI, and an MA in Quantitative Economics from Tufts University in Boston. I have over 10 years of work experience in economic consulting and analytics, both in the US and in India, with exposure to multiple domains including financial services, retail, and the pharmaceutical industries. I also have experience with training resources in analytical tools and techniques.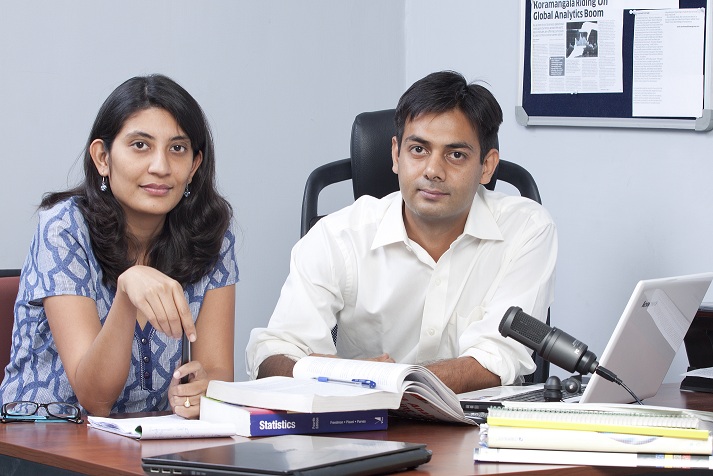 You entered analytics industry when it was a nascent field. How did you realize the future prospects in this industry?
GV: I entered the analytics industry in 2001 when it was still an emerging field. I got into the field by chance when I got hired by Capital One during the campus placements. My knowledge of the company at that time was limited to the information I was able to gather online. I certainly wasn't aware that I was getting into a company where 'data is king' and information replaced intuition when it came to decision making.

To give an example, when our office was shifting to a new location, the company spent thousands of dollars testing different office furnishings and gathering employee feedback on them. "Will you be more comfortable if you can adjust the height of your cubicle desk or your chair?" In order to be comfortable, some people prefer to adjust the seat height while others like to adjust the desk height. The company decided to go with an arrangement that gave the employees the flexibility of both the options.

This rigor that the organization had around leveraging information for any kind of business decision-making left a deep impression on me. When I came back to India, I decided to join GE's analytics centre-of-excellence as the work there was probably the most advanced in analytics in India at that time.

Now I have spent a decade in this industry and I have seen India emerge as the global hub for analytics. Numerous MNCs have set up analytics centres in India. At the same time several niche analytics companies have sprung up servicing global clients. Indian companies are also realizing the importance of analytics in business.
SD: When I left India for the US in the late 90's, the analytics industry was pretty much non-existent. My experience in the US was in economic and quantitative consulting, and on moving back to India I realized that there was this utterly new and fast growing industry called analytics that combined that kind of data driven analysis as well as business understanding and interpretation which was of huge interest to me, personally, but equally had very strong growth prospects especially in India given the rapid increases in data collection as well as the availability of resources with strong quantitative and communication skills.

Tell us something about Jigsaw Academy. (How you started it, funding, milestones achieved, and response so far)
GV: Having hired and trained hundreds of analytic resources in the last few years, I realized that there is a clear industry demand for professionals with strong quantitative skills who also have an understanding of how to apply statistical techniques in a business context to aid critical decision making. This is the market Jigsaw aims to serve by providing industry-relevant training in analytics to develop business-ready professionals.
Jigsaw Academy is a self-funded venture. Both Sarita and I decided we had enough faith in the idea to put in our own savings to start us off. And, looking back at the last 1 year, we feel it was the right decision. Jigsaw Academy started its operations in May 2011 and we crossed the 100 student mark in August. The response so far has been terrific both from the students as well as companies who are starved for analytics professionals.
SD: Based on my experience with hiring and then training resources for analytics delivery over the years, there was clearly an opportunity available to train resources with the right quanititaive skills on applications of analytic techniques in business, as well as resources with a business background on statistically rigorous quantitative analytical techniques. The current education system does not place enough emphasis on real life application and business implications. The response to our courses and content has been extremely encouraging from both students as well as companies looking to hire business ready analytics professionals

Are you pursuing it full time?
GV: I left my job in May, last year and started working full-time on Jigsaw Academy from September. Sarita joined me in July 2011 and both of us are working full-time on this.
What are the future prospects of analytics in India?
.