IAOP Ranks Infosys among Top 2 in 2012 Global Outsourcing 100 List
| July 25,2012 09:33 am IST
Infosys, a global leader in consulting and technology, announced that it has ranked second on The 2012 Global Outsourcing 100 list compiled annually by the International Association of Outsourcing Professionals (IAOP). Infosys was recognized by IAOP for its excellent performance across all four survey assessment categories including size and growth, customer references, organizational competencies, and management capabilities.
Our new ranking on this years Global Outsourcing 100 list is a validation that our Infosys 3.0 strategy is gaining traction and providing value to our customers. We thank our employees and clients for their continued support and confidence in our solutions and services, said Suketu Patel, Vice President, Strategic Global Sourcing, Infosys.
Judged by an independent panel of experienced outsourcing buyers and academics, the opt-in applications process serve as the basis of The Global Outsourcing 100 list.
We have seen tremendous growth, maturity and expansion of services among outsourcing service providers as we publish this 7th annual list of 'best of the best' globally, said IAOP managing director of Thought Leadership, Jag Dalal, COP. Judges were impressed with the depth of Infosys relationships with its clients as shown through the references provided. Clearly, their clients appreciate the value they receive from their engagements.
The International Association of Outsourcing Professionals (IAOP) is the global, standard-setting organization and advocate for the outsourcing profession.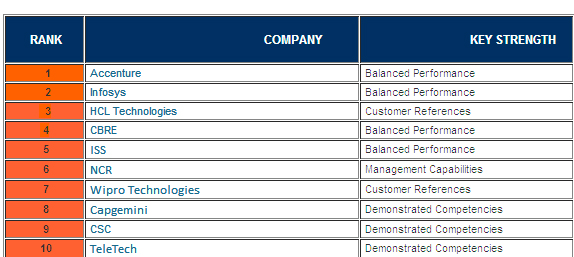 Concluded.
.