IIMK Satellite Campus, Kochi starts admission of its Executive Post Graduate Programme (EPGP)
Form Availability:Feb 01 - Feb 28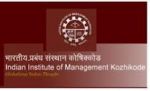 Application Process:
The selection is based on the performance in the Executive Management Aptitude Test (EMAT), graduation marks, work experience and performance in personal interview.
Eligibility:
Graduation in any discipline with a minimum of 50% aggregate marks having at least 2 years of work experience after graduation.
Contact Info:
Ms. Leema Jibu. 8129111591
Mr. Bhupesh K. 9388234545
Ms. Sheelu Saju. 9809080909
Email : iimk.kochi@iimk.ac.in
The Senior Administrative Officer (AA)
IIM Kozhikode,
IIMK Campus PO, Kunnamangalam,
Kozhikode 673570, Kerala

Contact: 0495-2809160, 2809400
Forms Available At:http://www.iimk.ac.in/kochi/EPGPPTAdmission2013/login.php
Application Fee:INR 2000
B-School Exams List:
About Exam / Programme:
IIM Kozhikode (IIMK) campus in Kochi announced the admission to its Executive Post Graduate Programme (EPGP). IIMK is the only IIM in the country to have an internationally accredited executive management education programme.
The Kochi campus is an extension of its Kozhikode campus catering to the needs of executives working in the emerging metros of Kochi, Trivandrum, Coimbatore etc. The 2 year part time EPGP will be the first course to be offered from the Kochi campus with 900 contact hours and has comparable in content to the regular PGP.
 
Duration of the Programme: 2 years
Evening Batch                                                                             Week – End Batch
Monday, Tuesday, Wednesday, Thursday                              Saturday & Sunday
Time :                                                                                            Time :
6:45 PM to 9:30 PM                                                                     Saturday: 4:00 PM to 9:45 PM
                                                                                                          Sunday: 9:45 AM to 4:00 PM

The programme is designed for graduates with at least 2 years of experience in supervisory/managerial/administrative and/or technical roles including services, manufacturing, KPO/BPO, Government, and any other organized sector.