MDI Gurgaon announced PGPM (Part Time)
Form Availability:Jan 18 - Feb 18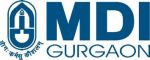 Application Process:
 Physical Application Form:
The Post Graduate Programme in Management (Part-Time) Information Brochure and Application Form would be available for sale on payment of Rs.1800/- in cash. The forms will be available from January 18, 2013 to February 18, 2013 for April 2013 batch and July 19, 2013 to August 19, 2013 for October 2013 batch (During office hours: 1000 -1700) from Room No.4 Gurukula Building on MDI Campus and MDI Registered Office, 15th Floor, IFCI Tower, 61, Nehru Place, New Delhi -110019.
Online Application Submission:
Post Graduate Programme in Management (Part Time) application form can also be filled online from MDI website -
http://www.mdi.ac.in
. An applicant is required to fill required details Online and print a hard copy of the MDI Application Receipt generated online. A recent passport size photograph is to be affixed on the application receipt. The online Application Receipt then has to be sent to MDI, Gurgaon by Courier, along with a crossed demand draft of Rs.1800/- favouring Management Development Institute, payable at New Delhi. Write your application number, name and contact numbers on reverse of demand draft. You are also required to send two self-addressed adhesive labels along with above documents. (Or alternately payment can be made Online using credit card/debit card/internet banking).
Last Date for Submission of Physical & Online Application Forms:
Candidates sending filled-in application forms by Courier must do so sufficient time in advance, so as to ensure that their filled in application forms are received within the deadline the Programme as per the Table given below.
Entrance Test
The candidates will have to appear for a written test to be conducted by MDI at MDI Campus in Gurgaon. This test is on similar lines/of the same pattern as the Common Admission Test (CAT). The tentative date for the Entrance (written) Examination are 3 March, 2013 for April 2013 Batch and1 September, 2013 for the October 2013 Batch.
Interview
Shortlisted candidates will be called for a Personal Interview tentatively one week after the Written Examination, to MDI Campus, Gurgaon. The Interview will be on Sunday, March 11, 2013 for April 2013 Batch and on Sunday, September 8, 2013 for October 2013 Batch.
Admission Offer
Successful candidates will be intimated of their final selection individually and through our website. The selected candidates will have to pay the first installment of fee by the given deadline, failing which their offer of admission would be forfeited, without any further intimation.
Eligibility:
Managers/Executives of Private, Public and Government Undertakings and State and Central Government Departments posted in and around National Capital Region are the potential candidates. Entrepreneurs from family business (es) are also eligible. The applicant should be a graduate (and not holding a Diploma) of a programme having a minimum 3-year duration, from a recognized university or an equivalent institution recognized by AIU. Single-sitting graduation is not accepted. Candidates with professional qualifications e.g. Engineers, CA, CS, Cost Accountants, Architects, Doctors, etc. would have an added advantage for admission. The participant should have at least three years of executive/managerial work experience after completion of graduation excluding training (stipendiary) period. An applicant should have:
A minimum of 3-year Bachelor's Degree or equivalent in any discipline recognized by the Association of Indian Universities/AICTE, as eligible for post-graduate studies in management;
and
A minimum of 3 years of post qualification executive work experience (excluding stipendiary training period) as on 31st March 2013 for April 2013 Batch and 30th September, 2013 for October Batch.                                  
Contact Info:
 Management Development Institute
Mehrauli Road
Sukhrali,
Gurgaon - 122 007
INDIA
Tel + 91-124-4560000
E-mail - chairmanpgpm@mdi.ac.in
Forms Available At:Official Website of MDI Gurgaon
Application Fee:INR 1800
B-School Exams List: CAT, GMAT
About Exam / Programme:
 MDI is a front runner B-School of India. The PG Programmes in Management offered by MDI are recognized and accredited by the All India Council for Technical Education (AICTE) New Delhi. Its PGPM has been awarded "A" Grade by the 'National Board of Accreditation' of All India Council for Technical Education. Various surveys have consistently ranked MDI amongst the top five B-Schools of the country. MDI has the distinction of being the first internationally accredited Indian B-School. It was accredited by South Asian Quality Standards (SAQS) in 2005 and by Association of MBAs (AMBA) in 2006.
All academic activities are faculty driven. The faculty decides on the curriculum content, delivery, duration and management of each programme.
MDI is first Indian B-School accredited by AMBA :International accreditation by the coveted Association of MBAs (AMBA) London was awarded to MDI in 2006. The milestone established the international quality standards of the Institute.
MDI is among the selected few B-School accredited by SAQS: MDI has the distinction of being few B-schools accredited by South Asian Quality Standards (SAQS) in 2005.
About 70 nationally and internationally acclaimed full-time faculty: MDI has one of the largest communities of full-time faculty that bring the right mix of research and industry experience to education and consultancy offered by the Institute, is an unequivocal asset of MDI. Various industry leaders and practitioners who participate in various roles and capacities further enrich the offerings at MDI.