21st Century Workforce: Challenges for HR Solving them the TCS Way
| May 21,2010 10:15 am IST
If you happen to meet the HR Head of a large organization, just ask him what his biggest challenge is. He will say 'retention of people'.
The same person after a few minutes for the same question will answer 'attracting talent'. Probably his answer the next day will be 'staff motivation'. Different answers from the same individual at different times does not mean that he is not sure of what his problem is but it depicts the fact that the priority of HR challenges keep changing from time to time. The biggest challenge for HR in the 21st century is to identify its biggest challenge.
Most of the big companies' values are tied up in intangible assets. The study of intangible assets breaks them into three components. The first is processes. Processes are important for any industry and they determine the output of any activity. Companies should manage their processes well and derive maximum results out of them. Next important intangible is the customer base, or the brand value. Over the last one and a half decades, companies are focusing more on driving maximum value for existing relationships.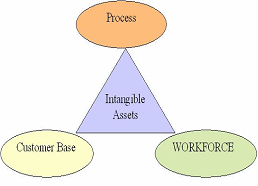 Three Components of Intangible Assets
The third major intangible is the workforce and the investment made on the employees. The challenge here is to optimize the return in the workforce investment and also ensure that the investment that we make is driving the expected output. It is very important to be significantly different from competitors and always be in the minds of future employees and shareholders. 'People are our biggest assets' has become the buzzword for all organizations and 'how are these great assets managed' remains a million-dollar question! This paper answers such unanswered questions and sincerely attempts to enable the HR fraternity to overcome their current challenges and make the HR roles interesting.

Emerging New Markets
There was a tremendous focus on the US and the UK geographies till a couple of years ago especially in the IT industry. But now the scenario is changing and more countries in the Europe are emerging as potential markets. Asian countries like India and China are redefining the landscape. Many MNCs prefer to set up a base in these countries because they provide a beneficial ground on several aspects, be it manpower, skill, knowledge or anything else. Indian companies are setting up their bases in other countries as well. It is evident from several business reports and articles that the focus is shifting from US, UK to Europe and, of course, APAC. The challenge for HR is multifold in this regard.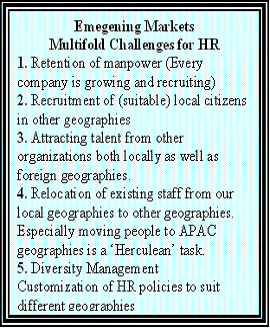 These challenges listed in the box above are just a few top priorities, the list grows longer and longer as we get into further details. Another hard fact here is that each one of these items in the list can be broken down into few smaller items, which also serve as big challenges to organizations.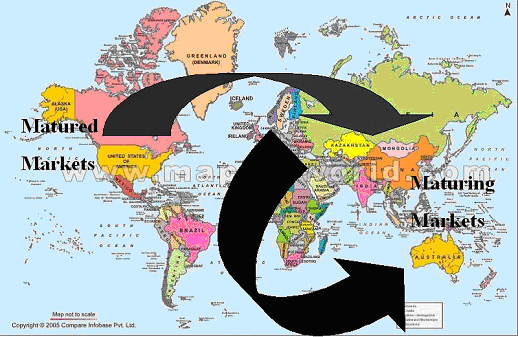 Focus Shifting from US, UK (West) to Europe, Asia Pacific
.