Employee Training Effectiveness
| June 15,2010 02:53 pm IST
Training Effectiveness and its Significance
In India, training as an activity has been going on as a distinct field with its own roles, structures and budgets, but it is still young. This field is however; expanding fast but controversy seems to envelop any attempts to find benefits commensurate with the escalating costs of training.
Training has made remarkable contributions to the improvement of all kinds. Training is essential; doubts arise over its contribution in practice. Complaints are growing over its ineffectiveness and waste. The training apparatus and costs have multiplied but not its benefits. Unhappiness persists and is growing at the working level where the benefits of training should show up most clearly. This disillusionment shows in many ways- reluctance to send the most talented workforce for training, inadequate use of personnel after training etc. with disillusionment mounting in the midst of expansion, training has entered a dangerous phase in its development. Training is neither a panacea for all ills nor is it a waste of time. What is required is an insight into what training can or cannot do and skill in designing and executing training successfully and cost-effectively.
At the present time, all the organizations give more trust on commercializing their activities. All the firms in order to continue to exist in the competitive global market and to be effectual, should espouse the most modern technology i.e., mechanization, computerization and automation. Technical know-how alone, however, does not assure success unless it is sustained by workforce possessing indispensable expertise. Hence organization should train the employees to enrich them in the areas of changing technical skills and knowledge from time to time.
The firms consider its human resources as one of its most precious assets. Training is a valuable assessment device that helps the organization to improve the performance and skill level of its employees and to monitor them on continuous basis for effectiveness of human resources. The training should be imparted to all the staff on their specialized area as well as general areas irrespective of their position in the company.
In the context of globalization, human resource development with proper training to the workforce is required to meet the challenges in future and to win the global competitive advantage. The organizations spends huge amount of money on imparting training to its employees. So it is very important to evaluate the efficacy of the training programmes conducted so far and to find out whether the executives are able to implement the skills that they learned in the training and development process.
Effective Training Programme- Underlying Principles
Any training programme in order to be effective must have some precise goals and objectives:
To enlighten the partakers more about their organization, its aspirations, challenges and the business background in which it operates.
To make the human resources cognizant of the functions of different sections.
To train them to be aware of the significance of communication and enthusiasm in their day to day work as a tool for better organizational climate and morale.
To see that once they go back after attending training, they feel that they belong to the organization.
To ensure that the participants would share their information gained from training with their co-workers.
To develop friendship, fellowship, support and trusteeship among trainees.
To ensure that technical, managerial, supervisory and human competencies are built up in the employees on a continuous basis to enable them to perform their current assignments effectively and also to set up them to execute their future tasks.
To put forward the attitude based training to ensure that a value based and self sustained culture is built in the organization.
To offer the required training inputs to all employees in a need based, organized and lucrative manner.
The training programmes imparted to the workforce should be of superior standards with a view to develop good working environment, provide work culture inspiration, support attitudinal change, improve interpersonal relationships, reduce accidents, perk up efficiency, update knowledge and technology, educate saving and investment habits among employees, create consciousness of work-related health hazards etc. Also, the training institute should comprise of all type of audio visual aids, which forms the venue for the in-house training and development programmes in the organization.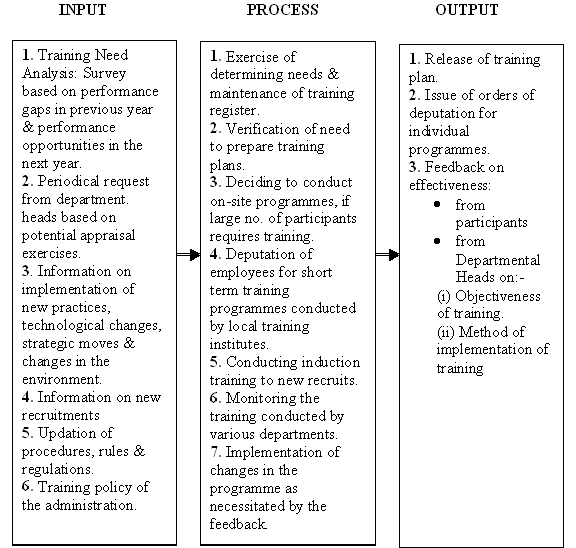 .