Employee Training Effectiveness
| March 11,2014 02:53 pm IST
Effective Training Programme- Underlying Principles
Any training programme in order to be effective must have some precise goals and objectives:

• To enlighten the partakers more about their organization, its aspirations, challenges and the business background in which it operates.
• To make the human resources cognizant of the functions of different sections.

• To train them to be aware of the significance of communication and enthusiasm in their day to day work as a tool for better organizational climate and morale.
• To see that once they go back after attending training, they feel that they belong to the organization.
• To ensure that the participants would share their information gained from training with their co-workers.
• To develop friendship, fellowship, support and trusteeship among trainees.
• To ensure that technical, managerial, supervisory and human competencies are built up in the employees on a continuous basis to enable them to perform their current assignments effectively and also to set up them to execute their future tasks.
• To put forward the attitude based training to ensure that a value based and self sustained culture is built in the organization.
• To offer the required training inputs to all employees in a need based, organized and lucrative manner.

The training programmes imparted to the workforce should be of superior standards with a view to develop good working environment, provide work culture inspiration, support attitudinal change, improve interpersonal relationships, reduce accidents, perk up efficiency, update knowledge and technology, educate saving and investment habits among employees, create consciousness of work-related health hazards etc. Also, the training institute should comprise of all type of audio visual aids, which forms the venue for the in-house training and development programmes in the organization.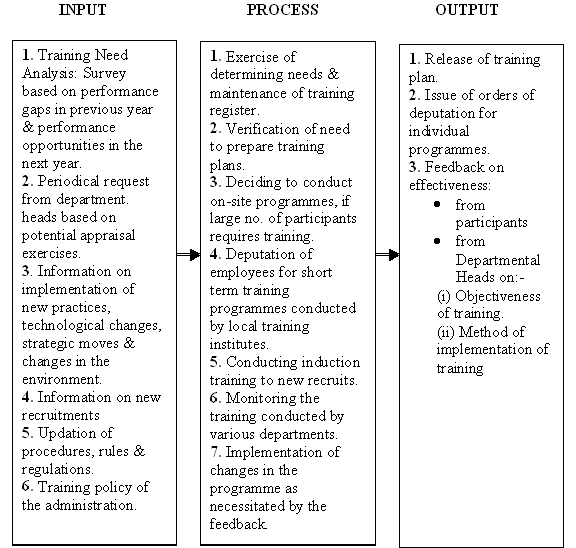 Evaluation of Training Effectiveness
Evaluation and appraisal of training programme is a necessary practice in any firm as it is an assessment of the total value of a learning event and not just how far it achieves its learning goals and objectives. Training assessment is about seeking to evaluate whether or not training is, in fact, generating pertinent and appreciated results through proficient and well-managed practices. It is a process of collecting data with which to make decisions about training activities. It thus places the episode in a broader outlook and offers information, which is vital for future planning and development. The information acquired by the assessment of the training programme can be used to find out the lags or shortcomings in the training programme and make successive suggestions and advices for making it more effectual.

In turn to categorize areas of assessment, Donald Kirkpatrick formed what is still one of the most generally used models. The inquiry that has to be raised by the management to evaluate the effectiveness of training in each level is listed below:

Stage 1: Response- Were the trainees satisfied and what is their idea to perform with the skills acquired?
Stage 2: Knowledge- Whether and to what extent the talent, awareness and approach of the workforce have changed?
Stage 3: Performance- Were the conduct of the workforce improved on the basis of what they have trained?
Stage 4: Outcome-Whether the improvement in the performance has an impact on the desired output of the firm?

Training Evaluation- How does it help?
The training evaluation and assessment has three main reasons:

• Feedback to help trainers understand the extent to which goals are being met and the effectiveness of particular learning activities- as an aid to continuous improvement.
• Control to make sure training policy and practice are allied with managerial objectives and providing lucrative solutions to managerial concerns.
• Intervention to raise awareness of key issues such as pre-course and post-course briefing and the selection of delegates.

The following are the clear advantages of training evaluation:

• Enhanced value of training programmes.
• Improved skills and capability of the trainers to associate inputs to output
• Superior differentiation among training programmes that are worth enough to be retained and those to be dropped.
• Good incorporation of training provided by the firm and employee improvement.
• Healthier collaboration between instructors and executives in the growth of workforce.
• Proof about the contribution that training and development programmes are providing to the meet the goals of the firm.
• Faster inclusion of training needs and managerial goals.

Evaluation of training effectiveness should not be treated only as a corrective measure for the existing training programmes offered by the organization, but also as a pro-active measure for making future training programmes effective. Today only those firms are flourishing who become accustomed to the changes in the right time with the right course of action. Only an effective training facilitates in improving the human resource of the organization making them adaptable to changes that takes place in their business environment. As the work turn out to be more complicated, the significance of the employee development also raises. However it is also a process that a firm must place resources to if it is to uphold a workable and talented employees.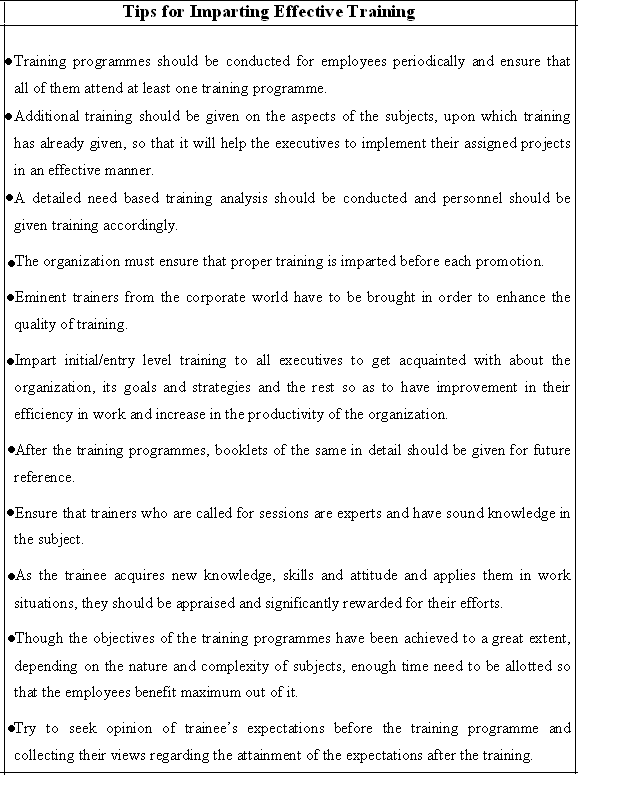 .