Freedom to innovate at organisation can derail if not aligned with company goal says Shouvick Mukherjee, Yahoo CEO, Yahoo India
| December 08,2011 11:29 am IST
The conversation on how a company can succeed through innovation can unfold in different directions. It can take a detour through technology or strategy, business model or process - because there is no single blueprint for success.
The only common denominator through the Tchange you embark on - which has the power to make or break - is your people.

Innovation is the lifeblood of an organization like ours - the Yahoo center in Bangalore is our second-largest R&D hub in the world. This story began a few years ago, when Yahoo in India was at a transition point. While we were executing well, it required a leap up the value chain to reinvent the center as a marketcentric innovation hub. A base from which we could make a significant impact to Yahoo globally, tightly aligning to what we were trying to achieve as a company. For this to happen, we needed an internal innovation ecosystem that was self-sustaining, weaving across and encompassing every level, every team, and every employee.
How much freedom is too much or (worse) too little?
The combination of being innovative, open and fun for young techs Yahoo (as we're called) is most conducive to new thinking. Innovation has always been in our DNA, with employees having the freedom to choose the direction they want to innovate in. However, taking innovation to the next level meant going back to the drawing board, to rethink how we could really make it count. While accomplishing this, I strongly believed we had to balance the aspirations of our employees, with our purpose and goals as an organization.
Innovation programs can derail, or lose credibility, if the "freedom balance" goes askew. It's considered cool to give employees the free time to think out of their immediate box, innovate, and see where it leads. Nevertheless, without alignment to what the company is trying to achieve, it leads to a lot of noise without the results to show.
Companies struggle to find a fit for these ideas and make them stick. A little down the road, when employees don't see a correlation between their efforts and the outcome, boredom sets in, followed by plummeting motivation levels. For a company that evolves through innovation, the alternative is not an option. A topdown approach, dictating 'what and when' to employees, can effectively kill creativity.
Interestingly, our people pointed us to the solution. During my informal interactions with employees on one of our monthly birthday gatherings our discussions turned to innovation. The one question that employees always asked me was, "How can my innovation reach the market?" One employee candidly told me, "It's not just about having a great idea. My idea should matter. If I win a contest, I don't just want an appreciation certificate or a gift voucher. I want to know that my innovation is going to make it to the product roadmap." This could only happen if the team was collectively focused on the same goal. Finding the sweet spot between creating and achieving meant channelizing innovation. Thus, in conversations with employees, I reiterated alignment to our product goals and within that, ideas that solve "real life" problems.
Another prerequisite was accelerating cycle time - critical for successful innovation. It's easy to lose steam with hierarchy and bureaucratic tangles. We addressed this by enabling and empowering employees with a framework that offered direction, but, did not stifle or slow them down.
Before freezing our action plan to grow innovation at the center, we brainstormed with employees on removing obstacles and making the program more inclusive. One observation that came up was around transparency and communication. An employee pointed out, "I can only think about innovating laterally if I know what other product groups are working on." To connect and get the conversation going between teams, we began organizing informal sessions over chai, where employees could meet business owners, talk about ideas they have for that particular product and find out what's on the roadmap. This is turn has facilitated cross-pollination of ideas.
Breathing, not just breeding innovation
If you ask me, what's the single biggest lever to build credibility and gain the trust of your employees, I'd say, "results." In my experience, if you show your employees results for their efforts, you've delivered to them.
Thus, when we pressed the pedal on our innovation program, we were already working with an advantage - the world-class talent at our center. However, was it possible to embed innovation even more deeply into the culture and rewire the organization for creativity? Well, I believe that no culture change initiative alone can do the trick, unless it is backed by results. What we chose was "result-driven" culture change. When employees saw team mates innovating with results to show, we banked on it having a ripple effect, sparking the passion and hunger to succeed. Results have
reinforced the organization's vision like no amount of talk can. In the last four years, the Bangalore center has yielded a 50% average y-o-y increase in idea submissions for patent consideration.
Help to run the last mile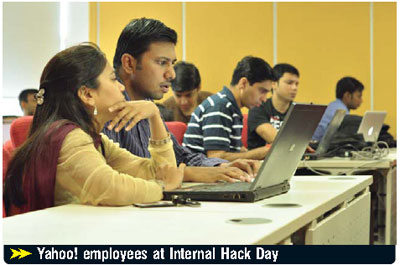 To facilitate the change needed, we are enabling our employees to enhance their existing capabilities and gain domain expertise. As a leader, I see a dual responsibility. It doesn't stop at giving your people opportunities. You have to then equip them to successfully "convert" these opportunities into the desired results. An employee told me, "I have an idea, but will I get the support and help to take it forward?" Part of empowering your people is to create a support system for them. To foster this, we have a team dedicated to facilitating innovation and its adoption - the single point from which any idea can begin its journey at our center. They go by the name Yahoo Entrepreneur Network (YEN) and for the past year, have worn multiple hats to spot innovation, nurture, track it, aide collaboration and break down silos within the organization. Center-wide, we have ensured that channels of communication remain open across levels, while opening up new channels.
.