HR: No More a Staff But a Line Function
"All managers are, in a sense, HR managers, since they all get involved in activities like recruiting, interviewing, selecting, and training."
- Gary Dessler
Yet most firms also have a Human Resource Department with its own Human Resource Manager.
How do the duties of this HR Manager and his or her staff relate to "Line" Managers' human resource duties?

Before going over to answer this question, we should know that HR managers are, in most of the cases even now in this modern world, generally staff managers. They are responsible for advising line managers (like those for production and sales) in areas like recruiting, hiring, and compensation.

One major company outlined its line supervisors' responsibilities for effective human resource management under the following general headings: -

1. Placing the right person on the right job.
2. Starting new employees in the organization (orientation).
3. Training employees for jobs that are new to them.
4. Improving the job performance of each person.
5. Gaining creative cooperation and developing smooth working relationships.
6. Interpreting the company's policies and procedures.
7. Controlling labor costs.
8. Developing the abilities of each person.
9. Creating and maintaining departmental morale.
10. Protecting employees' health and physical conditions.

In small organizations, line managers may carry out all these personnel duties unassisted. But as the organization grows, they need the assistance, specialized knowledge, and advice of a separate human resource staff.

The human resource department provides this specialized assistance. Thus, an HR manager will perform three distinct functions :-

1. A Line Function: An HR manager possesses a line authority over his own department to accomplish the task and roles assigned to each employee of the department. And since the majority of the decision is trickled down from the corporate level, he actually exudes such power. His suggestions also are taken as orders.
2. A Coordinative Function: An HR manager is also a coordinator of all the decision, activities in the personnel area. This is referred to as functional control. Whatever policies, procedures and objectives are set for the HR manager implements on employees in the organization.

3. A Staff Function: This is basically an advisory role played by the manager whereby he only assists line managers, but that does not mean his advice shall be taken finally. It all depends on the discretion of the line manager. Such a function involves assisting on areas such as training, evaluating, rewarding, counseling, promoting, and firing of employees, etc. Many a times, HR managers also update the line managers as well as top management regarding the current trends and new methods of solving problems.

In the table below, we will see the division of HR activities between the line and the staff duties: -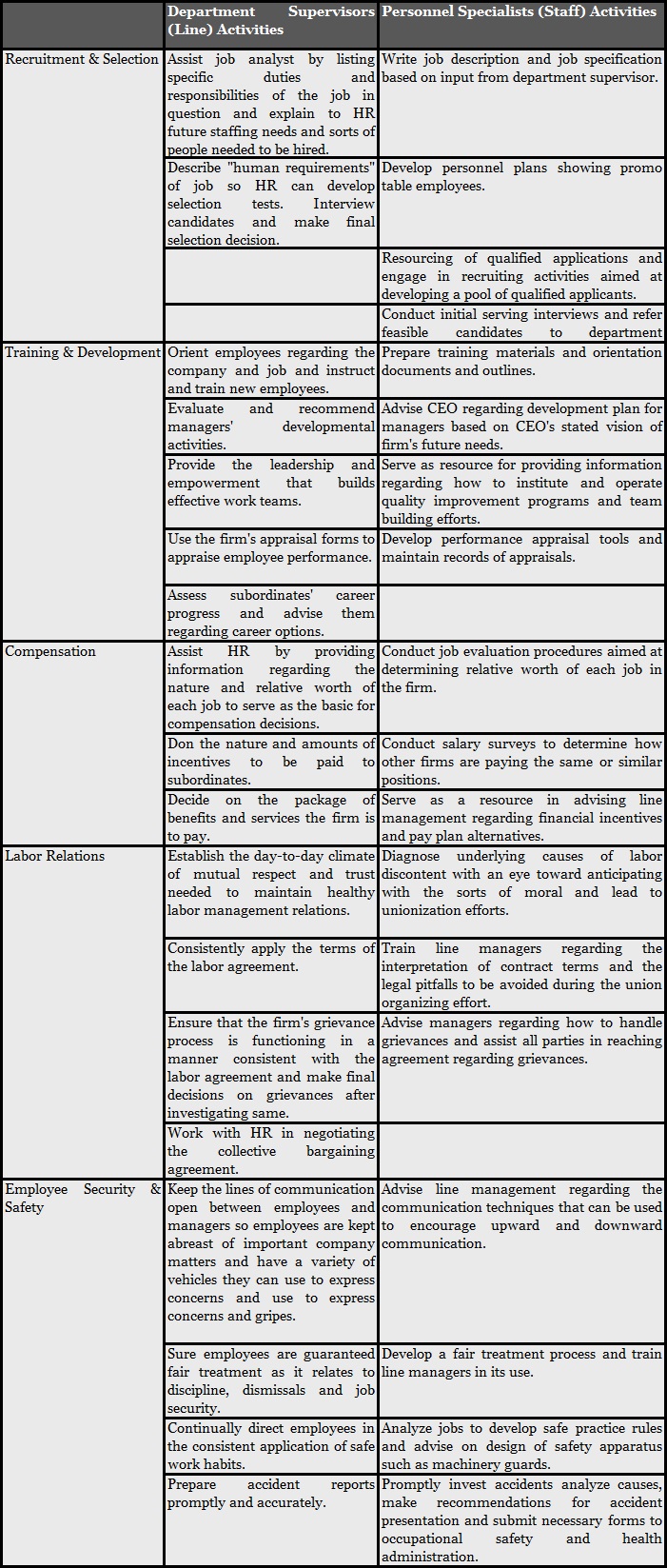 Source: Adapted from Human Resource Management (7th Edition) by Gary Dessler, Prentice Hall India, 1997.

HR as Strategic Player
The HR function now becomes a strategic player. To continue the analogy, a player adds value; more importantly, a player scores. HR's focus must, therefore, be on scoring on making things happen for customers rather than merely being a part of the team. HR must be "on the field", in the game, and positioned to score. HR may not be the lead scorer, but it cannot be on the sidelines coaching, in the training room prepping, or, least of all, outside the stadium gates taking head count. If HR can evolve to a role that adds significant economic value to the firm, its security is likely to be substantially enhanced, and many comments, such as by Fortune's Stewart, signaling doom for HR or calls to eliminate the function, will be seen as relics of the 1990s.
This chapter provides an overview of how HR can, and is, scoring points. First, we discuss the score-keeping process-measuring HR's impact on organizational performance as well as alternative HR roles in the scoring process. HR's value in executing strategy in then demonstrated via the example of mergers and acquisition, an opportunity for HR to add demonstrable economic value that is typically unrealized.

Clarifying HR's Impact on Organizational Performance

The HR Scorecard
To understand how HR can score involves recognizing how the scorecard is kept. Most discussions of organizational scorecards focus primarily on financial and operational measures. Financial scorecards, both short term and long term, involve such measures as earning per share, equity appreciation, return on assets, with Economic Value Added (EVA) a recent favorite. Short term measures also include quarterly earnings and a revenue growth. Operational outcomes might include customer satisfaction / success, product or service quality, speed of delivery, and productivity. There is an assumed relationship between operational outcomes and financial results. That is, if strategy of the organization is appropriately architected, the key operational goals, often described via a small set of critical success factors, should positively impact the organization's financial results. AT&T has demonstrated this, as its Customer Value Added (CVA) measure is shown to link directly EVA.

HR's role in influencing work force behaviors to achieve operational and financial outcomes can add value by helping to ensure that the work forces engage in the "right" behaviors. Which produces the "right" operational outcomes, enabling the organization to achieve its intended financial results? Influencing work force behavior to achieve a desired result ought to be major HR role; however, HR's focus is often on activities, not on results. Hence, the relationship of behaviors to outcomes had not until recently been empirically demonstrated using a large sample of firms. Within single firms, this relationship is much more difficult to demonstrate. Indeed, AT&T has yet to demonstrate the relationship of its People-Value-Added (PVA) measures, for example, to CVA. Thus, specifically how firm may add economic value through its HR function has yet to be adequately demonstrated.

.