Page - 1
HR Heads are worried about employees leaving their organizations. Not only is it costly to lose trained employees, but their replacements are not easy to come by. Hence, the HR strives hard to keep attrition at the minimum.
Greg Weiss, an HR Consultant and Principal of Humanagement, in extensive interviews with HR Directors at 30 companies, found that most companies have little real understanding of why employees leave. (Source: Article on www.zdnet.com.au)
Cite HR Poll: I came across a public poll that was conducted at Cite HR (a popular meeting point for HR professionals) to find the opinion of the HR community on the reasons for attrition. The poll was titled 'Who will be held responsible for attrition?', and participants had to chose an option responsible for attrition. The options were: -
1. Employee
2. Supervisor or Line Manager
3. Compensation & Job Profile
The Poll Results: The HR community welcomed the poll and a large number of them participated. The results of the poll on a specific date were as follows (The poll still continues and numbers of voters have increased; however, the result remains more or less the same): -
| | |
| --- | --- |
| Reason for Exit | % of Respondents |
| Employee | 08.03% |
| Supervisor or Line Manager | 38.15% |
| Compensation & Job Profile | 53.82% |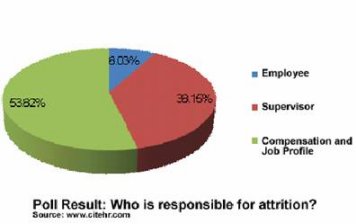 ---

Gireesh Kumar Sharma is BA & MA (English) from Kakatiya University. He is currently working as HR Analyst in Saigun Technologies Pvt. Ltd., and also pursuing PGDBM from IIMM, Pune. His first book titled, "How to Win Office Politics", has been published by Mahaveer Publishers, New Delhi. The book highlights various aspects of the working atmosphere in office and provides tips to enhance growth in office.