Chicken Soup for the (Female) MBAs Soul
You know, of course, how it is with B-School romance. You don't, you poooooor thing? Imagine going to B-School without that know-how! Tut, tut! Come sit down and let me tell you, the way to find romance in a B-School that will make Erich Segal choke on his caviar.
First, darling, look around properly for the TDH - Tall, Dark, Handsome variety. It doesn't matter that he occasionally forgets to brush his teeth. You see, he might have drunk too much during the Wet Night and simply slept through the next day. And forget the fact that his comments on women in general, make you want to puke. Relax, that's normal B-School guy stuff. Their hormones are always raging. Besides, he is from Patiala, a hunk, and his family estate is the size of Thar Desert.
His ambition, even bigger. That's what it takes, huh, babe?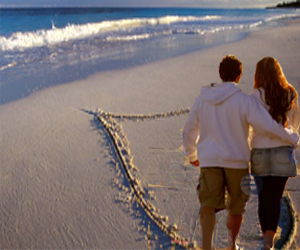 Second, ditch that nice girlfriend/ boyfriend of yours in Delhi (Pah! Who wants a mere M.A, when you can net an MBA - even with three D grades?) You might of course want to practise the new communication techniques, the Prof taught you, yesterday (The Letter to deal with awkward clients, who complain that your company's heart-shaped chocolates stink on biting). Who cares, dahlin' if someone calls you Ms.Ditch?
Third, try to break your leg. Don't raise your eyebrows! Romantic entanglements literally begin when the old leg is broken and the tender hand can cling onto his willing shoulders. And if your old boyfriend happens to drop in (That dunce still writhing in astonished agony) you can always find some excuse as to how you just HAD to do ACCOUNTING assignments in HIS room on the FOURTH floor, though the ELEVATOR wasn't working. (Tch! Why do you think they train you on Corporate Image Building?)
But wait, dearest. Don't tattoo his name on your bare back, as yet. (Though I know you are waiting for a chance to wear that sleeveless, backless, tee-shirt) Wait for the Summer placements. What if that other good-looking hunk, who winked at you on Junior's day, end up placed in an International Consultancy? The Patiala landlord might end up in a measly Indian Paint company - Cheee! So you keep bleaching that hair off your pretty face. You never know….
So what if people call you Ms.Ditch, Ditcher? You found glorious love with that Super Senior during your summers, didn't you? Only you still like to keep that fawning Patiala besotted on you, buy you lasagna and take you out, and hold you when you break down over your grades. Maaan, the most exotic female, as Vatsyayana will tell you, is the mysterious one. To be Patiala's or Not To be Patiala's - that's the big question.
(Meanwhile, love, you just keep popping to Lucknow to meet that Senior Squared - when he comes down for his Marketing trips.)
Oh Sweetheart, the fool gifted you a big, diamond ring on the second year Valentine? Now, what DOES a girl do with a thing like that? You listen to him ecstatically planning your children and their marriages and hear him say " Darling, you look good wearing my future. My father threatened to kick me out if I married you. The ring is all I have. But I will still get the Paint preplacement and…." Don't yawn, dearie - cough delicately. Smoke without blowing it into Patiala's face. Finger your diamond. Revise your Beauty Parlor schedule in your mind. And yes, reconfirm that reservation ticket for Lucknow.
Your placements are over. Also your father has rung up to tell you that he has fixed your marriage with Mr. Paniwallah, Dhoodhwallah, of the Kitchdi Business fame. You check Kitchdi's website. You see the gloating smile of your future mom-in-law, who is also incidentally, bloated. And the groom looks like Mickey Mouse - only Mickey was more macho. You run crying to the phone and dial Senior Squared's mobile number. Its mid night. And a woman drawls into your unbelieving ears … 'Who the **** is it?"
Darling, so WHAT if they call you Ms. Ditch, Ditcher, Ditched? You see, you end up as Mrs. Trophy Wife at least. And your Mickey Mouse will proudly introduce you to friends as "The wife who did MBA from the Top B-School." And the news that Patiala has married a nice homegrown Patiala female should only be a relief to you. After all he was the epitome of Platonic friendship as you told Mickey Mouse.
And when the song "Kabhie Kabhie' plays on Most Wanted, remember the evening that you spent crying on Patiala's shoulders, describing to him how strict your father was and how you will FOREVER cherish that diamond ring.
Ah, such a romance, dearest, can happen only in a B-School. Let Erich Segal bury his Love Story in its verdant compound. And jump on it. Thrice.
.