Celebrities In Advertising
| May 18,2010 10:22 am IST
Stars, who are known to shape destinies, cast an enormous influence. No, we're not talking about astrology here.
We're referring to the powerful effect of celebrities on destinies of brands. One approving nod from a famous face can translate into millions in brand sales.

Perhaps that's why the world over, companies have been using stars to endorse everything, from food to food chains, from soft and hard drinks to health drinks, from clothes and accessories to cars (and the tyres on which they run).
Commonly called "testimonials" or "celebrity endorsements", this technique of persuasion says that consumers relate to the person(s) appearing in the ad: If the celebrity / athlete / star uses the product, then it must be good, so I will purchase it too.
In today's world, the use of celebrity advertising for companies has become a trend and a perceived winning formula of corporate image building and product marketing. This phenomenon is reflected by the recent market research findings that 8 out of 10 TV commercials scoring the highest recall are those with celebrities' appearances.
Some of the best known celebrities employed for advertising campaigns include Aamir Khan for Coca-Cola, Toyota's Innova, Amitabh Bachchan for Nerolac, Dabur, ICICI, Parker, Reid & Taylor, Shahrukh Khan for Omega, Hyundai Santro, Pepsi, Airtel, Videocon consumer durables, Sachin Tendulkar for Pepsi, Colgate Palmolive, ESPN-STAR Sports, MRF, Boost, TVS Victor, Fiat Palio, Visa, Adidas, Brittania, Airtel... and the list just goes on.
The reason behind the popularity of celebrity advertising is the advertisers' belief that brand images built through celebrities achieve a higher degree of attention and recall for consumers, which will eventually lead to higher sales. Although the potential benefits of using celebrity advertising to promote brand images and products are significant, so are the costs and risks.
The inherent upside of attaching a celebrity to a brand is that the brand literally has a face, name and personality that immediately projects an image of a living, breathing, credible person as opposed to a faceless corporate entity. The downside is that individuals are not as stable or as easily controllable as corporate entities.
As fame comes and goes, so goes the brand.
But when the star is ascending, the idea is to capitalize on the glamour of celebrity by selling a piece of the dream. Legend has it that Tommy Hilfiger's clothing brand enjoyed a US$ 100 million sales climb over a one year period after rapper Snoop Dogg appeared clothed in a Hilfiger logo rugby shirt on television program "Saturday Night Live".
There is no doubt that celebrity advertising has its benefits - The Four Qs: -
Quick saliency
It gets cut through because of the star and his attention-getting value. Goodlass Nerolac has ensured high saliency for its brand with the inclusion of Amitabh Bachchan in its advertising.
Quick connect
There needs to be no insight but the communication connects because the star connects. Sachin, Shahrukh and their ilk's ensure an easy connect for Pepsi with the youth.
Quick shorthand for brand values
The right star can actually telegraph a brand message fast without elaborate story telling. Kapil Dev and Sachin Tendulkar seem to have done that successfully for Boost in the early '90s and helped to differentiate it in the malted beverages market.
Quick means of brand differentiation
In a category where no brand is using a celebrity, the first that picks one up could use it to differentiate itself in the market. Boost did it in the malted beverage category.
And Preity Zinta does all the above four for Perk - connecting with the youth and reinforcing the brand's youthful, spontaneous, energetic values.
There are three basic categories of source attributes: credibility, attractiveness and power. Each influences the recipient's attitude or behavior through a different process.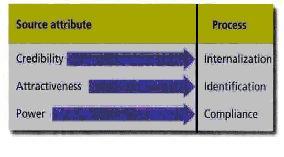 .