The Ifs & Buts of Celebrity Endorsements
| April 29,2013 10:48 am IST
Globally, 'celebrity endorsement' is a very powerful marketing tool, employed by firms to build their brand equity. In India, the Lux soap is known to have been endorsed way back in 1941 by the then famous film actress Leela chitnis.
The introduction of celebrity endorsement in Indian TV advertising is marked by the commercials of 80's featuring Kapil Dev, Sunil Gavaskar and Tabassum endorsing various consumer products. So, the potential of this concept has been well acknowledged, and tried and tested on the Indian soil for over 70 years now.

Why Endorse?
The compelling reasons for companies to yield a strategic position to celebrity endorsement in their marketing schemes vary. Very frequently celebrities are roped in during new brand introductions.
The basic idea remains to cash on the popularity, credibility and mass appeal of the celebrities which is expected to help raise awareness of the brand, generate positive associations for it, and build purchase intention among its prospective customers. Sometimes, it's merely a reactionary step meant to nullify the impact of celebrity endorsement exercised by a competitor. The last decade also witnessed a novel application of celebrity endorsements for crisis management, manifested brilliantly in the Cadbury case to weather the 'worm' storm.

What are Frequently Endorsed?
Among the industries that have generously employed this marketing tool, and have reaped healthy dividends are those representing FMCG, consumer durables, automobile, construction, healthcare and gems and jewellery among others .
Top 10 Categories in Celebrity Endorsements on TV during Jan-Dec 2010
Rank Top Categories
1 Shampoos
2 Toilet Soaps
3 Cellular Phone Service
4 Soft Drink Aerated
5 Fairness Creams
6 Cellular Phones
7 Branded Jewellery
8 DTH Service Providers
9 Washing Powders/Liquids
10 Televisions
Note: Ranks are based on Secondages
Source: AdEx India (A Division of TAM Media Research)

Who Endorses?
Among the public figures, cinema and TV actors, artists and sportspersons are said to be the first choice for endorsements in India, followed by politicians, journalists, activists and some others who have been, or, promise to be very successful in their niche areas. It is also true that a number of ordinary faces also gained celebrity status with their appearance in some iconic ads, like Surf's Lalitaji, the Complan boy and the Rasna girl to name a few.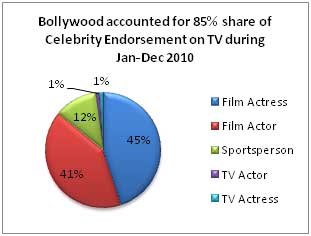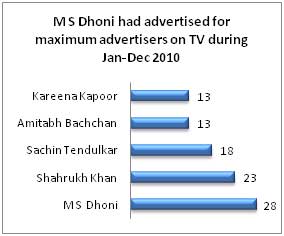 Note: Figures are based on Secondages Source: AdEx India (A Division of TAM Media Research)
Choice of a Celebrity
The 'consideration set' of personalities for endorsement must be guided by the nature of customers a brand serves. Its target market or segment can be broadly identified on the following parameters: geographic, demographic, psychographic and behavioural. A company needs to feel the pulse of its customers, as the heart of a successful celebrity endorsement lies there. It decides the avatar a celebrity personifies, the message she communicates and the medium through which it is conveyed. The lingo, accent, dressing and props used in an ad that may appeal to urban customers may not be the most popular and effective ones in rural settings. Similar is the case with distinct genre of celebrities appealing to different members in the same family, say, children, teenagers, housewives and elderly.

The role a celebrity plays in an ad depends on the kind of brand being endorsed. When it comes to lifestyle, fashion and luxury products, the entire aura and cult figure of the celebrity needs to be accentuated. In the minds of consumers, this kind of product is usually placed as an aspirational one and the focus is more on emotional appeal. But when there is a repeat purchase or low involvement product, the functional benefits tend to be highlighted more. Hence, to add to the believability factor, the celebs are usually made to resemble a common citizen representing shared points of pain and happiness.

Rocketing Endorsement Fees
Financially, celebrity endorsement is a costly proposition for most companies. With contract fees crossing Rs 1 crore for top celebrities in India, due diligence needs to be carried out to closely estimate the expected returns on investment (ROI). It is thus better advised to take professional help before a company takes a call on celebrity endorsements.
.