Book Review: Brand Management-An Indian Perspective by Kisholoy Roy
Rome was not built in a day and similar is the case with brands. The foundation of any brand building exercise involves effective segmentation, targeting and positioning coupled with a wise marketing mix.
A lot goes into the transition of a brand from the brand awareness stage to generating top of the mind recall for the brand. In an era of growing customization, opportunities to own something exclusive are increasing every day. Human beings love to.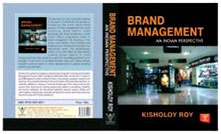 Creating a connection with people is important for all organizations and a brand can embody attributes which consumers will feel drawn to. Effective branding elevates a product from being just one commodity amongst many identical commodities, to become a product with a unique identity and promise. Effective branding is about creating an emotional resonance in the minds of consumers so that consumers' loyalty with the product is enhanced and this will in turn insulate a brand or an organization from competitive onslaught.

The book Brand Management: An Indian Perspective by Prof. Kisholoy Roy highlights all the above aspects of branding and much more. Various contemporary topics on brand management have been meticulously assembled in the book and presented in a very lucid language. A host of examples have been provided that are mostly based on the Indian markets and Indian brands. The book in a way inspires readers to think, understand and apply the critical principles of branding to various product categories. Celebrity branding, destination branding, retail branding and branding in the rural arena are some of the chapters that have imparted an unique identity to the book and have made the book a substantial source of value addition for all the aspiring and practicing managers. The 20 case studies featuring various aspects of brand management along with the technical notes of some of the noted luminaries from the industry have further contributed to the originality, relevance and contemporarization of the book.

In conclusion, I would like to add that the text book by Prof. Kisholoy Roy has addressed a significant gap in the market for text books on brand management. The book has a content that is definitely worth comparing with some of the leading international brand management books but has been nicely customized for the Indian students and practicing managers.
Concluded.
.