XIME ( Xavier Institute of Management & Entrepreneurship), Bangalore - Admission 2013
Form Availability:Oct 31 - Feb 28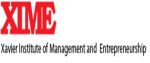 Application Process:
Obtain XIME Application Form & Programme Brochure
Downloaded form may be filled and sent along with the registration fee in the form of a DD favouring 'XIME Bangalore'.
Registration
Applicants desirous of joining XIME need to obtain the prescribed application form and register for admission.
They should have appeared for the XAT admission test conducted by XLRI.
CAT scores are also considered in lieu of XAT scores. Applicants should indicate the XAT/CAT score for the year in the application form (if score is received by then).
In the absence of XAT score, CAT score will also be considered in lieu.
CMAT score published in October 2012 will also be considered in lieu of XAT.
Registration for XIME Admission (continued)
Applicants should indicate the XAT/CAT/CMAT score for the year in the application form (if score is received by then). If score is not received at the time of filling in the application, a copy of the score card must be sent by email/post so as to reach XIME latest by February 28, 2013 or within a week from the announcement of result of these tests. Otherwise the application will not be considered.
Criteria for Judging Suitability of Candidates for Admission to the PGDM Programme
Academic Record
XAT/CAT/CMAT Score
Performance in Group Discussion
Performance in Personal Interview
Work Experience, if any
Eligibility:
Candidates for XIME's Post Graduate Diploma in Management (PGDM) are required to have a bachelor's degree from a recognized university with a minimum aggregate of 50% marks for all subjects taken together (45% for SC/ST candidates). Candidates who are appearing for their final year examination and are awaiting their results may also apply. They should have maintained an average of 50% marks in the degree course until that time. They should be completing all their degree examinations before June 16, 2013. Such candidates are required to provide proof of passing the degree examination with the minimum required marks of 50%, latest by September 29, 2013.
Contact Info:
Contact Person: Admissions Coordinator
Contact No.: 080-2852 8597 / 98
Fax: 080-2852 0809
Email: admissions@xime.org 
Forms Available At:Designated IMS Learning Centers or T.I.M.E. Centers and Official website.
Application Fee:INR 1250
B-School Exams List: CAT, CMAT, XAT