Finance Remained Preferred Destination at IIM Kozhikode with 37% Final Acceptances
The Batch of 2009 at IIM Kozhikode walked off with great pride after the successful completion of an exciting placement season. Braving the current recession, IIM-K pioneered a deep foray into new sectors whilst also expanding its roster of conventional B-school recruiters.
A total of 94 firms took part in the placement process this year making a total of 251 offers to a batch of 185 students (the largest batch of the institute till date). These included the crème-de-la-crème from the financial and banking sector, top consultants, the biggest FMCG firms, marketing firms, media houses, and some of India's largest conglomerates. The participation of some NGOs added an endearing flavour to one of the most corporatized event on campus.
"The Final Placement Process was largely successful due to our early planning and action to get the top recruiters on board as well as target new sectors, both in India and abroad," said Dr. Keyoor Purani, the Placements Chairperson. Dr. Purani also added, "As a matter of principle we have tried that students get jobs in areas of their interest. Even if this has meant taking a little longer than usual years in completing the placement process, we provided choices of companies and roles for students to begin their careers in sectors they are comfortable working in."
An International Affair
Students bagged a total of 23 international offers this year. The highest international offer was USD 120,000. Offers were made from firms in North America, Europe, South East Asia and other emerging markets. As always, students preferred the roles on offer over compensation or location. The ever increasing participation by International firms in the Final Placement process is indicative of the far reaching impact of IIM-K's brand and the global competitiveness of its graduates.
The Home Front
The highest domestic offer stood at INR 24 Lakhs made by an investment bank based out of Mumbai. Though this is a decrease from what was achieved last year, IIM-K managed to minimize the impact on both the average salaries and the median package. Despite the global economic slowdown, IIM-K students ended the placements with an average annual salary of INR 10.61 Lakhs.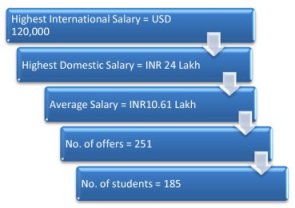 IIMK PLACEMENT 2009: STATISTICS
The entire gamut of corporate profiles were on offer, ranging from Investment Banking, Capital Budgeting, Treasury and Private Equity in Finance to Brand Management, Marketing Strategy, Advertising, Product Development in Marketing. As always, students were spoilt for choice and had the option to take the role that best suited their interests.
Sectoral Divide
Despite a reduction in their international operations, significant participation was seen from the Financial Sector companies in both the private and public space. Offers were made by Deutsche Bank, Citibank, HSBC, Standard Chartered, American Express, Yes Bank, Axis Bank, Aranca, Barings Private Equity, Futures First, SEBI, ICRA, SBI Cap, etc. Finance still remained the preferred destination for most of the students with as many as 37% final acceptances. The talk of recession was drowned down by the frenzy with which students were lapped up by the banks.
.