Finance Remained Preferred Destination at IIM Kozhikode with 37% Final Acceptances


IIMK PLACEMENT 2009
In Marketing & Business Development, another favourite of IIM-K graduates, students took up jobs in some of the biggest brands in the business.
Firms like Coke, Pepsi, ITC, Reckitt Benckiser, Pfizer, JnJ Medical, Marico, Sony Entertainment, Britannia, Asian Paints, VIP, Titan, Idea Cellular, Godrej, etc., participated in the process. The percentage of final acceptances in Marketing & Business Development roles stood at 28%.
Top Consulting firms such as McKinsey and Co., Arthur D little, Gallup Consulting, Deloitte and PricewaterhouseCoopers also participated in the Placement process.
Other important recruiters included Freudenberg, Maersk, Infosys, Cognizant, Dr. Reddy's, etc.

Conglomerates such as Manipal Group, Tolaram Group and Essar were also on campus for placements. They offered diverse roles in almost all areas of their operation including General Management. A number of PSUs such as IOCL, SIDBI, Bank of Baroda, HAL, SAIL, PFC and HPCL also recruited from IIM-K this year, some of them for the first time. The recruiters were impressed by the level of preparedness that the students demonstrated which reflected in the large number of final offers made.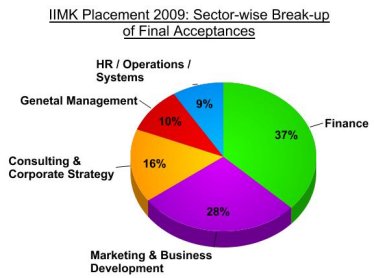 Lateral Placements
Given the diverse and extensive work experience of IIM-K students, it was little wonder that the Lateral Placement Process was such a success. Firms recruited for senior level positions in Corporate Strategy and Corporate Branding. Other strategic roles on offer were Executive Assistant to CEO, Product Managers and Leads of entire Business Divisions.
The current batch also saw some students deciding to commence their careers in non-traditional sectors such as Non Profit Organizations and Media Companies, among others. "Getting an opportunity to begin my career with a production house is a dream come true for me. I have always seen myself as a person who will be happiest in the media sector and getting a job from campus into this sector is a matter of great joy," says Deepak Oram, a student of the outgoing batch of IIM Kozhikode.
Undivided Loyalties
A great part of the success achieved in this placement season was attributable to the immense support that the Alumni continued to provide on a regular basis. They are the brand ambassadors of the institute and it is their success in their respective fields that translates into success for IIM-K.
A lot of existing recruiters maintained their relationship with IIM-K. Even in these testing times, the allure of IIM-K's promise of quality students was enough to get them on campus and recruit.
The Land of Opportunity
IIM-K has always strived in creating entrepreneurs and this year saw two students deciding to avail of the placement holiday. They are planning to start ventures of their own. Rajat Kathpalia, a resident of Delhi, has decided to start his own venture in the field of green technology consulting. Rajveer Singh, on the other hand, has decided on making a career for himself in the field of microfinance and agriculture, and is setting up his own business in this sector.
.