Page - 2

Solving sums in these ways is not difficult and CAT does have similar type repeated.

Take, for example,

Question: (CAT '05)

1 x 2 x 3 x … x n for integer n≥1. If p = 1! + (2 x 2!) + (3 x 3!) + … + (10 x 10!), then p + 2 when divided by 11! Leaves a remainder of:

(a) 10 (b) 0 (c) 7 (d) 1

Solution:
This sum is similar to the previous sum. If p = 1! Then p + 2 = 3 when divided by 2! Gives a remainder 1. If p = 1! + (2 x 2!) = 5. then p + 2 = 7 when divided by 3! Gives a remainder 1. The result is the same for p = 1! + (2 x 2!) + (3 x 3!). So the answer for the given sum should be 1.

Another example

Question: (CAT '05)

X = √4 + √4 - √4 + √4 ….to infinity. Then x equals

(a) 3 (b) (√13 – 1)/2 (c) (√13+ 1)/2 (d) √13

Solution:
We know that √4 – anything will be less than 2. So we get √4 + (less than 2). Which should be more than 2 but less than 2.5. The only option that satisfied is c option with √13 is approximately 3.5. So (3.5 + 1)/2 = 2.25. The same sum can be solved by formulae but that will take time.

Another similar sum

Question: (CAT '04)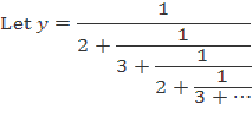 What is the value of y?

(a) (√13 + 3)/2 (b) (√13-2)/2 (c)(√15 + 3)/2 (d) (√15 -3)/2
Solution:
Y = 1 / 2 + something. So the answer has to be less than half. Check the options. Only option less than half is d option where √15 is less than 4 lets say 3.8. So (3.8 – 3)/2 = 0.4.
---
* Powered by TestFunda.com
The article has been written by Patrick D'souza, BE, MMS from JBIMS and a CFA for TestFunda.com. Testfunda.com, is the Leader in Online MBA test preparation & is managed by a team of 4 IIT-IIM Alumni backed by a team of  85+ Educationists, Instructional Designers and Systems Architects with vast experience in MBA Coaching and Computer-Based Training-Testing.