19th Annual Convocation Ceremony Held at XIM, Bhubaneswar
Xavier Institute of Management, Bhubaneswar (XIMB) held its Nineteenth Annual Convocation Ceremony this evening, for the Batch of 2010, at the Institute's auditorium. A total of 221 students graduated this year, in the three variants of the Post Graduate Diploma in Management (PGDM) course offered by XIMB. Of these, 119 were from the flagship full-time residential PGDM course, 46 students from PGDM (Part Time) and 56 students graduated from the PGDM (Rural Management) course.
"You are a very privileged lot of the top 1% of students in India, which truly is a land of opportunity", said the Chief Guest and Convocation Speaker for the evening, Shri R. Seshasayee, MD, Ashok Leyland Limited, calling upon the graduating batch to make full use of the opportunities our country offers, to challenge the country to greater heights, by aligning personal objectives with the growth impulses of the country. He spoke about the importance of three 'E's in our life- Education, which everyone only continues and never completes, Enterprise, and the power of spotting business opportunities in everyday life, and Ethics, which is only ever tested in the toughest of situations. He was accompanied on the dais by Shri Rajive Kaul, Chairman of XIMB, Fr. P.T. Joseph S. J., Director, Prof. Subhajyoti Ray, Dean(Academics) and Fr. Tony Uvary S. J., Dean(Administration)
"XIMB has imbibed in you values and an ethical order which I am sure would hold you in good stead as you march into your corporate life", were the words of the Director, who also quoted Robert Frost in his Annual Report, "The woods are lovely dark and deep, but I have promises to keep and miles to go before I sleep and miles to go before I sleep.", while instructing his graduating students to not rest on their laurels, but keep performing to the best of their abilities. "I know we can't all do things of great magnitude, but we can all contribute in small small ways", he said. He also highlighted some of the recent achievements of the Institute, which included winning several awards at the 17th Dewang Mehta Business School Awards as well as the Innovation Leadership Award on 12th February organized by the DNA and STARS Group, the inauguration of a new seven-storey academic-cum-classroom building by Shri Naveen Patnaik, Hon'ble Chief Minister, Orissa on June 22, 2009, and its christening as the 'TATA Centenary Learning Centre', by Mr. H.M. Nerurkar, MD, Tata Steel, on 11th July.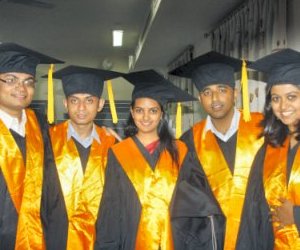 Fr. Romuald D'Souza, Founder-Director of XIMB, who held the post from 1987-93, was then felicitated for his Padma Shree Award for contribution to Education and Literature.
The Director's Report was followed by the presentation of medals and award of diplomas. For the PGDM batch, the C.M. Kandoi Gold medals for academic excellence, instituted by Aditya Steel Industries, were awarded to Mr. Nipun Aggarwal and Ms. Ishita Goel for securing first and second rank in order of merit. The next eight rank holders received Faculty Council Gold Medals. Ms. Ishita Goel was also the proud recipient of the Leeta Mishra Ankalkoti Gold Medal for Lady Topper and the NTPC Gold Medal for Lady Topper, as well as the NTPC Gold Medal for the OB & HRM Area Topper. Mr. Kiran Bikash Rana was awarded the Ravi Sharma – Arsha Vidya Gold Medal for Best All Rounder.
For the PGDM (PT) Batch of 2007-2010, Mr. Bipin C.D. Pendyala, Mr. Sushil Kumar Pradhan and Mr. Joiestin David were awarded the Faculty Council Gold Medals for academic excellence in order of merit.
For the PGDM (RM) Class of 2010, Mr. Anuj Jindal won the Orissa Jesuit Society Medal for securing first rank in order of merit, while Mr. Ankur Sharma and Mr. Param Brahma Mohapatra were awarded Faculty Council Gold Medals for securing second and third ranks respectively. Ms. Parul Agarwal won the NTPC Gold Medal for Lady Topper.
The Fr. M. V. D. Bogaert Gold Medal for Topper in Social and Ethical Responsibility (SER) Course, instituted this year in memory of Fr. M.V.D. Bogaert, who passed away on 30th August, 2009, was awarded to Ms. Aparajita Mahendra of PGDM (RM). Fr. Bogaert, a Belgian by nationality, made India his home at a tender age, and was an educationist, a writer, an activist and one of the founding fathers of Xavier Institute of Management. He held the post of Director from 1993-95. His energy and passion for social work and concern for people at the grass root level as well as his classes on CSER will always be cherished.
The ceremony was brought to a close with the Vote of Thanks by Fr. Tony Uvary, followed by a rendition of the National Anthem.