37% of the Batch Chooses Consulting Career at IIM Bangalore Final Placements
The Final Placement Process at IIM Bangalore concluded on Saturday, the 8th of March, by the first day of Slot Two of the process, with IIM-B setting new benchmarks for the Indian MBA graduates.
This year leading global consulting firms flocked down to IIM-B making a beeline for the students along with the global investment banks and marketing firms. The consulting recruiters who visited the IIM-B campus were McKinsey & Co, Boston Consulting Group, Bain & Co., AT Kearney, Arthur D. Little, Al Ghanim, Accenture, KPMG and Diamond Consulting. This year also witnessed the consulting major Oliver Wyman recruiting students for the first time.
Overall, 37% of the batch accepted a position in a consulting career, known for its demand for multi-functional skills, cutting across Finance, Strategy and Marketing. This was again the highest across IIMs and a strong testimony to the pedigree of students at IIM-B. McKinsey & Co. was the single largest recruiter among the consulting firms in this year's placement, inducting 15 IIM-B students in their fold. The other sectors that have seen significant number of positions being offered include Finance (19%), Investment Banking (21%), Marketing (7%), IT (6%), Operations, Lifestyle and General Management (10%).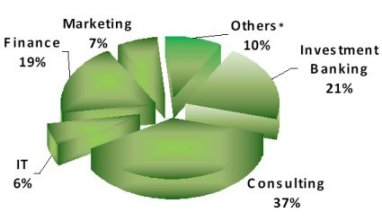 * Includes General Management, Operations, Lifestyle
Global Growth
The increasing number of global recruiters bears a strong testimony to the maturing global reputation of IIM-B. This year, the IIM-B campus hosted leading multinationals like McKinsey & Co., Boston Consulting Group, Bain & Co., Merrill Lynch, Lehman Brothers, ABN AMRO, Bloomberg (New York), Freudenberg (Germany), and Arqaam Capital, amongst others.

---------------------------------------



Click here to Debate on latest trends of Placements 2008 as the saga unfolds itself.

Read complete story of Placement 2007 as it happened along with analysis and comparison across the B-schools and segment-wise analysis.