Management of Technology & Innovation - IIM Kozhikode
Start Date:2013-02-11
End Date:2013-02-13
Event Type:Management Development Programme
Location:Kozhikode
For:
The program is aimed at middle level executives/ management professionals across industries.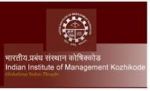 Event Details:
 The program will cover the following topics:
Business driven technology, IT Products and Services from the Global Perspective, Changes in the IT landscape, Adaptation of marketing techniques, Comparison with other industries, Scope of IT market, Standards and compliance, Identifying competitive advantage, Strategic initiatives, Streamlining business operations, Class i fication of IT Products and Services, Intellectual Property, Product Innovation, Product Life Cycle Management, Product Launch, Product re-launch, Disruptive Cloud Computing.
Open Source Products and Services, Product type dependent development, Cons ultative Selling, Service Delivery, Off-shoring, Pricing of Infrastructure and Applicati ons, Pricing of Services, Project Management, Total Cost of Ownership, Productvs. Service Launch, International Business, Localization, Internationalization, Globalizati on, Types of Outsourcing, Skill Development, Branding , Alliances and Marketing, Leveraging the Eco-system, Indian IT Market, Process of government IT purchase : Tenders and Rate Contracts, Role o f Government nodal agencies .
Building innovation, creating innovative organizations, creating collaborative partnerships, integrating wireless technology in business, building software to support agility, developing a 21 st Century organization.  
Programme Fee
Residential - 28500 + Service Tax 12.36%
Non Residential - 23000 + Service Tax 12.36%