Outsourcing Management- Creating Value Through Collaboration - IIM Bangalore
Start Date:2013-02-18
End Date:2013-02-20
Event Type:Management Development Programme
Location:Bangalore
For:
Senior managers who own the outsourcing initiatives, senior executives managing partner relationships, influencers who encourage outsourcing initiatives, Executives who are involved in horizontal relationships (if possible, including executives from the outsource service providers), Business development managers who interface with channel partners.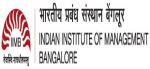 Event Details:
Outsourcing has been a major initiative in recent years for addressing issues relating to growth. Many critical areas of business are being outsourced, therefore it is extremely important that the process is designed and managed to take care of the pitfalls while ensuring expected business results. Companies entering into outsource arrangements often have limited experience of the process; however for the outsource service providers, it is their core business, and this is reflected in the contract and the arrangements to which they commit.
 Programme Charges*
Residential: Rs. 60,000/-
Non-residential: Rs. 58,500 /-
Early Bird cutoff date: 07 January, 2013
Residential: Rs. 57,000/-
Non-residential: Rs. 55,575/-
Please Note
*Additionally, please add service tax at prevailing rates
to the programme fee.