UNSCRAMBLING DATA AND INTELLIGENT DECISION MAKING WITH QUANTITATIVE METHODS – MODULE 2 - IIM Kozhikode
Start Date:2013-02-20
End Date:2013-02-22
Event Type:Management Development Programme
Location:Kozhikode
For:
Any one concerned with decision making and data analyses.
Management personnel at all levels particularly from Manufacturing, Oil and natural gas, Petro-chemical, Pharmaceutical, Food and Beverages and in Marketing Research, Sales, Production, Finance, Insurance, Operations, Planning & Development, Transport and Logistics.
Prior knowledge on Basic Statistics is required.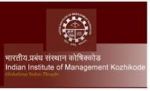 Event Details:
Effective decision making is crucial. Being statistically literate is essential. In a highly competitive and an increasingly Internet-centric world, where information and data is available in abundance, it is vital to focus on statistics in decision analysis as a primary tool of effective decision making. Broadening statistical knowledge enables one to engage in decision-making processes with authority, accuracy and integrity. The most successful managers are those who can understand and use information effectively. Advances in Statistical tools and techniques coupled with application software can considerably aid in intelligent decision making, speed and accuracy, product designing, production management, market research and customer relationship management. This MDP aims at developing at individual level, understanding of data, concepts of appropriate quantitative techniques, data visualizing, analytical and interpreting abilities.  
Programme Fee
Residential - 28500 + Service Tax 12.36%
Non Residential - 23000 + Service Tax 12.36%