Lead Management for Mass market
Mass market or residential market is basically retail based market. It is characterized by retail based sales, high standard margin and not much driven by customer based predefined contract.

For a typical mass market the lead management which is "Lead qualification, assignment and handling and Lead nurturing" plays an important role but with difference in complexity and importance as compared to Enterprise market.

Lead Management Operation for Mass market (Typical scenario)
In order to illustrate that let's see how typical lead management operation prevails for mass market.

Lead Generation and Receipt
Lead is generated of course through campaign, marketing tools and other common promotional activities. But since lead management starts after lead being generated, which is partly from the stage of lead capture and further on, thus we will consider the lead management from lead Receipt stage for mass market.

Lead is provided by multiple channels including self care as well as manual channel. Some of the common mass market channels to capture or receive the leads are
• Web based enquiry forms
• Web based links such as "Contact Us"
• Self care channels like IVR, Kiosks etc
• Enquiry form at T-Shop
• Inbound call centre
• Campaign / Promotion response forms
• Others like post, promotion desk, sms etc

Typical problems faced at lead capturing / receiving stage
1- Unequal attention paid to every channel
2- Delay in capturing and passing the lead to next stage

Lead Qualification and Analysis
Lead is collected by either some central sales team or marketing team. Typically for mass market or retail based leads it is either just cleansed (accuracy, duplicity etc) or cleansed and qualified (qualified on some parameter or logic) before assignment or allocation. But either in these cases the stage is more of overlooked or ignored by most of mass markets leading to inadequate sales pipeline projection.

Typical problem faced at Lead qualification and analysis stage
1- Lack or ineffective lead qualification
2- Inaccurate or unsatisfactory understanding of customer's exact need
3- Inability to gauge urgency and life period of leads.

Lead Assignment and Handling
Lead is assigned and is followed up till conversion by mass market sales channels like
• Owned retail channel
• Franchise based channel
• Non Franchise based channel
• Direct contact agents (outbound call centre)
• Sales people (Field force)
• Direct supply mode
• Others like contractual partners or subsidiary companies etc

Typical scenario experienced within mass market lead assignment and routing are influenced by following assignment logic or conventions
Nature of relationship with channel partners (contractual)
Based on territorial or geographic proximity or some predefined historical conventions
Random assignment equally to all outbound sales agent or Outbound units
Leveling mechanism based assignment to sales agent or channel partners

Typical problems face at lead assignment to handling stage
Ineffective lead routing or routing decision logic
Uncontrolled response time to customer from these channels
Prioritization or urgency not well defined during assignment
Lack of specialized channels for different type of lead
Misjudgment towards understanding preferred time and channel to communicate with customer.

Lead Nurturing and Development
Lead nurturing or lead development stage is either after the lead qualification or after the lead handling stage. This is most vital stage for mass market as it helps to identify suitable offer, target right people, helps in defining effective marketing programs and keep the contact alive with mass market customer during development stage of the lead.

Typically lead nurturing is prologue or supporting activity for any marketing programme for mass market. Typically lead nurturing activities comprised of
• Identification of lead which are futuristic
• Selection of right marketing programme to develop them
• Defining timeline and communication with futuristic lead development

Although this being one of the most important lead management phase for mass market, it is mostly overlooked leading to problems like
Futuristic lead ignored
Inability to understand "Right Offer" against a need
Delay in adapting or winning customer

Problems and Impact
Broadly for a mass market, ineffective lead management causes below problems with stage wise impact over these broad problem categories.

Table 01 – Lead management issues and stage wise impact
In terms of cost, and ineffective lead management for a mass market leads to

What is offered through Lead management solutions?
Overall the solution suggested will be combination of white book, frameworks and guiding rules associated with Lead Qualification, Lead Assignment & handling and Lead Nurturing which will be specific to mass market leads.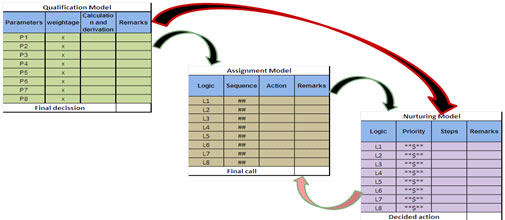 Figure 01 – Lead Management solution and dependency
Lead assignment & handling solution
Efficient "Lead Assignment & Handling" for mass market – the solution will comprise of detailed rule book and elaborate framework towards lead assignment and handling for mass market with specific features like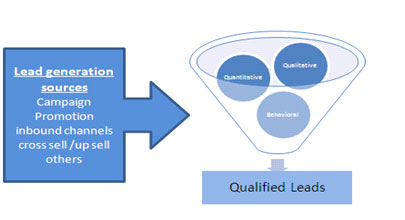 • Business rules for routing and assignment of leads
• Business logic for lead handling after assignment
• Response tracking and reassignment logic
• Seamless guiding rules towards assignment to conversion.
Figure 02 – Lead Qualification solution

Figure 03 – Lead Assignment and Handling solution

Lead nurturing and development solution
Effective "Lead nurturing and development" for mass market – the solution will comprise of detailed and elaborative framework with required rules and activity sequences towards nurturing and development of mass market based futuristic leads with specific features like


• Business logic to verify and confirm futuristic leads segmentation
• Business logic to select right marketing programs for leads
• Activities to keep the customer engaged and to develop them.
Figure 04 – Lead Nurturing and Development solution
.