m - Commerce - Tapping the future potential of India
| July 16,2012 10:04 am IST
How would you feel when you can pay your grocery bill, bus fare or your auto rickshaw walah using your mobile phone without any physical exchange of money, credit and debit cards? Mobile commerce would bring to you all these features in the near future with broader and wider applications. Mobile Commerce or m-Commerce is the use of mobile based applications for making payments, banking and retail transactions.
The need for increasing mobility with services available anywhere and anytime makes m-commerce an attractive option for customers, than its older cousin e-commerce.

Globally, m-commerce made its first debut in 1997, for paying the soft drink vending machine using mobile. From then, m-commerce has found its appearance in several ways but it was not widely used by everyone till recently. The penetration of mobiles and smart phones with the advent of technology like GPRS, NFC and 3G have created more visibility for m-commerce applications in recent years. As per TRAI report, the number of mobile users in India stood at 893 million till the end of 2011 and is expected to increase tremendously in future.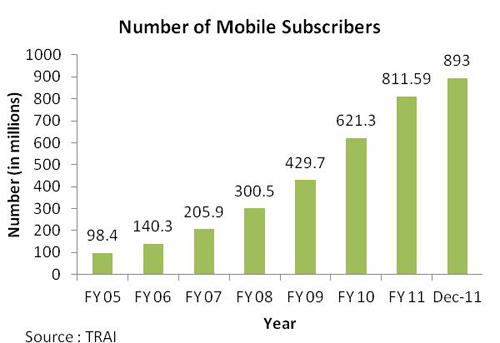 The substantial increase in the mobile users in the past decade has created a huge potential for m-commerce at present. This reach and penetration of mobile phones can be used to provide large number of services in a cost effective, fast and seamless manner.

Global m-commerce services:
In the global arena, mobile phones are harnessed to produce several mobile value added services in the m-commerce space. These services are spread across in the grounds of information, application and enablement categories
Information services include SMS alerts by banks for transactions and news channels that have applications for updating information on current news and stock prices.
Application Services deal with mobile banking (Yucash in Kenya), mobile purchase of goods (CreditEx in US) and mobile ticketing facilities (Simpass in China).
Enablement Services consist of the mobile savings account service (M-Kesho in Kenya) where money can be stored along with interest earnings. It also includes the enable payment services where payment can be made using Visa/debit cards through mobiles (MTS Ukraine) and can also be used to transfer funds

M-commerce- A driver for financial inclusion in India:
Mobile phones have transformed to be an inclusive part of peoples life. The number of Indians who use mobile phones is greater than who have access to toilets and banking services. The total number of wireless subscribers in rural areas stood at 307 million in 2011 which constitutes 34 percent of the total subscribers.
Taking advantage of this scenario, m-commerce can be used a catalyst for driving financial inclusion. Indian financial institutions are struggling to set up the requisite infrastructure to serve all regions equally. Though this is a significant challenge, it provides potential opportunity. Many countries in developing nations across the world from Africa to Eastern Europe have adopted mobile banking gateways, and have seen great success. For example, M-PESA in Kenya which has been cited as a driver for the doubling of bank accounts from 6 million to 12 million in a year. M-PESA shows that mobile remittances (P2P Payments) have the potential to act as gateways to the banking system for the unbanked and the under-banked segments, which make up a huge segment of the Indian population. Recognizing the importance of this mode, Reserve Bank of India issued the guidelines for Mobile banking and m-Commerce services in India.
Current m-commerce Services in India:
Business and public sectors like banks, financial institutions, and telecommunications are trying to utilize the increase in the number of cell phone users and are integrating m-commerce strategies. At present some m-commerce services are available in India and some are in pilot run. Most leading Indian banks offer SMS based information services and mobile banking services. In addition, several mobile service providers in partnership with banks are offering mCheck services for bill payments and ticket payments through mobile. mChek links mobile phone to Visa/ Mastercard credit or debit card allowing to make payments th rough mobile phone. RBI has set the maximum mobile payment limit to Rs 50000. Airtel is the first Service provider to get semi closed mobile wallet license and it operates under the banner airtel money. It is an account on mobile phone where one can deposit and use this balance to pay for various products and services. Reliance also offers similar service. Itzcash card Ltd which is Indias largest non- bank semi-closed prepaid payment instrument issuer is also licensed to offer m-wallet services. Recently, the e-commerce giant e-Bay has started its m-commerce operations in India and launched a new website for its m-commerce services. An open wallet system like Kenyan M-Pesa, which may fuel rapid growth, is not introduced in India till now.
The Way Ahead:
There is still a long way to go to reap the benefits of m-commerce across all sections of the country. The success of M-PESA was driven by their National identity scheme which is not available in many regions in India. Once the Aadhar project covers the entire population, the open wallet scheme similar to M-Pesa can be made operational in India which helps in satisfying KYC (Know your customer) norms. Awareness must be created about m-commerce services for its widespread adoption among pubic. Also educating people on the grounds of usage must be given importance. As m-commerce involves monetary transactions, concentration on reliability and security of the services stands mandatory to acquire peoples trust. Appropriate regulation together with a cooperative relationship between banks and mobile service providers can make m-commerce a huge success in India.
Concluded.
.