Street talk
| March 31,2012 01:52 pm IST
I never had enough money to buy as many books as I wanted to from the bookshops. Besides, bookshops generally kept only the current books on their shelves, and had little by way of surprise in browsing-experience as they call it today.
Pavement bookshops of Delhi have been foundation of my lifelong engagements with books. I dont know about the world but in India I have found that Delhi has the best pavement bookshops. Yes, better than Calcutta.
I bought my first Wodehouse, Durrell, Greene, etc for Rs.2/- in 1970s in the small temporary kiosk of books adjacent to the shoe repair kiosk at the entrance to the Indian Coffee House in CP where now the Palika Bazar is. Sanjay Gandhi had demolished the Coffee House during Emergency because it was a place of smuggling ideas or worse, and Rajiv Gandhi built the Park-cum-Palika Bazar on the wreckage which is now a place for smuggling pirate media or worse. The man who ran the book kiosk is now a venerable old man, retired, and his three sons run major bookshops in Janpath, South Extension and Green Park. His sons remember me and nod hello. It pleases me very much, when the world has very little of that for me.
Pavement bookshops are obviously the ultimate reflection of what is selling today. It is the sensex of books market. If an author/publisher makes it to that 3 metre square space, s/he is Blue Chip.
These are also, sociologically, the clearest observatory of what ideas and concerns are impelling the citizen. These bookshops have the produce of human mindscape for which the average and indigent citizen is willing to part with hard-earned cash. These bookshops are peepholes into citizens mind par excellence.
You would also notice, whether it is a Wheeler bookstall in Rajahmundry Railway Station(actually they are pavements stalls dressed up as shops, courtesy the Railways)or a roadside plastic sheet in Sector 17 market in Chandigarh, that the arrangement and layout of books have a fixed pattern which has no doubt been arrived at after long years of market-buffeted experimentation.
On one side, usually to the left (as you face it), is a pile of thick, cheap, classics Dickens, OHenry, Shakespeare, Mein Kampf, etc which are out of copyright and easy for any publisher to churn out. At the central periphery are the current and popular, a bit expensive, books mainly Penguins, Chick-lit, Management stars like the Monk who sold his Ferrari, Zen and Business, and suchlike. These two piles are vertical. In the area enclosed by these two are placed horizontally (face up), the current bestsellers-ranging from Grisham, Clancy, etc to Management stuff, and Steve Jobs, Warren Buffet types, to whatever. Adjacent to these best sellers are the ever present (which tells a big story) Self-Help books where Carnegie is still at it. To the right of these, again horizontally, is pornography, with the softer stuff on top and harder variety hidden below or even in a separate bag. This then is the topography of citizens` minds.
I think I have got sidetracked a bit. The other day when I was cruising past the pavement stalls at CP, I noticed something odd. This thing about pavement bookshops was triggered by that.
As you too can see, I saw in one Classic-Cheap pile a fat Das Kapital with the photo of Karl Marx. That stopped me. I am nearly an old man now and it is clear that I have been around pavement book stalls all my life. I can tell you I have never seen this before. Tagore, Maupassant, Tolstoy, Sherlock Holmes, Hitler, even Khalil Gibran, yes but never Marx. Like everyone else, I too had bought my Kapital in the form of the cheap and excellently produced volumes by Progress Publishers (now extinct), Moscow. And today, in 2012, it comes up in the Classics-Cheap pile! Surely this means something.
I had thought like everyone else that Marx and Marxism was finally dead and gone after Soviet Union collapsed in 1989.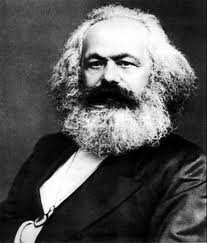 Marx is definitely dead for humankind. Benedetto Croce, one time mentor of Gramsci, had said this in an article. That was in 1907. He was among the first to say this. Not the last, yet.
Over about 100 years there have been about a dozen major campaigns to bury Marx. But the jury is still out it seems.
Instead there have been strange phenomena of people turning towards Marx repeatedly. People, strangest things of the planet. Here are some random notes I made:
In December 2000, in order to celebrate the new millennium BBC TV note, UK`s Foreign Office funded BBC ran an opinion poll about the Thinker of the Millennium. Shakespeare, Galileo, Einstein, even Churchill were offered as candidates. When all the votes came in around 30th December, BBC was shocked: the people had voted for Marx. BBC had fudged announcement of the results and hastily cancelled the planned follow-up programmes.
Well after the fall of the Berlin Wall, Herr Jorn Schutrumpf of M/s Karl-Diet in Berlin, the German publisher of the works of Marx and Engels had this to say in 2005: We are seeing a very distinct increase in the demand for the books, a demand which we expect to rise more steeply..
The Caracas Book Fair, one of the biggest book fairs in Latin America, has seen from 2006, a huge interest in books by Marx and Engels apart from Chavez of course.
Publishing industry in China reported in 2009 that sale of Das Kapital and Maos Red Book has seen a 5-fold increase since last year. This trend continues.
In Japan, from 2009, Marx is being published as Manga Series comic books in Tokyo. Das Kapital is in the bestsellers list.
Thinking that I might have seen a stray, freak of a pavement stall I walked around CP looking at all the stalls. As you can see the canny publisher (of perhaps Daryaganj) had covered all the stalls presumably all over India, at least. Does this mean something? Or am I just an old man, only too willing to be deceived?
There is a joke in and around Delhi. Question: Why when for others after death the last ceremony is held after the 4, 7 or 11 days but for a dead Jat it is held only after full 13 days? Answer: Because you burn his body, his khaat, and still you wait just to be sure he is dead. Is Marx turning out to be the ultimate Jat?
.