Angel Investment, SEED Fund Start-up Networking at MDI Gurgaon
| February 17,2012 09:09 am IST
SEED, the Centre for Entrepreneurship at The Management Development Institute (MDI), in association with HeadStart Network Foundation organized a workshop "Start-up Saturdays"- A Start-up networking and knowledge sharing event on the theme "Angel Investment and SEED Funding" for the entrepreneurs keen on treading the path of entrepreneurship. The monthly Startup Saturdays (Gurgaon chapter) that brings entrepreneurs (successful or struggling) and aspiring entrepreneurs under one roof to talk, debate, demo and learn.
Startup Saturdays, a part of Headstart Network, are held on the second Saturdays of every month. Currently they are held in Bangalore, Delhi, Gurgaon, Hyderabad, Kolkata, Ahmedabad, Chennai and Mumbai. The aim of the session was to give a 360 view of the Angel investment and SEED Funding scenario of India.
The session was attended by entrepreneurs, mentors and hopefuls. The prominent speakers at the workshop were Mr. Alok Mittal, co-Founder, Canaan Partners, Mr. Alok Bansal, co-Founder, Policy Bazaar, Mr. Ranjit Shastri, Managing Director, PSI Consulting, Mr. Anurag Kapoor, MEGStrat Consulting.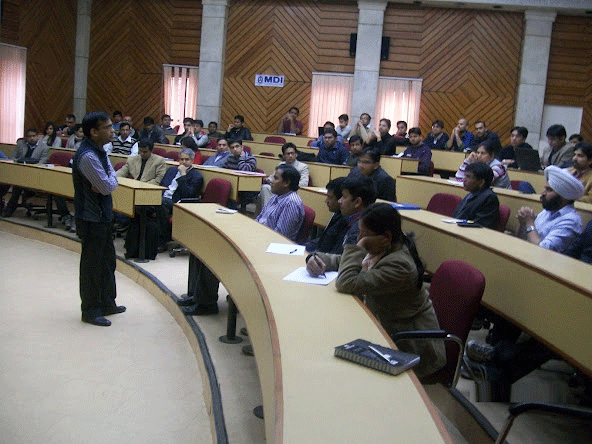 Prof. Rohit Prasad, Chairperson, Centre for Entreprenuership, Mr. Girdharee Saran, Student Secretary of the e-Cell, SEED and Vinay Jaiswal, HeadStart Network Foundation welcomed the speakers and the students for the mentally stimulating sessions lined up for the upcoming entrepreneurs of the institute. The workshop is part of a series of sessions aimed at equipping potential entrepreneurs with tools and concepts to start their ventures.
A platform of creative energy, product showcases and networking opportunities, Start-up Saturday covered all the start up challenges that entrepreneurs face. The workshop was designed to kick start budding entrepreneurs, providing information and insight from experts about what they really look for when investing in a business or new business idea.
Through an open and interactive way, the big-wigs gave an insight scenario in India and these marquee entrepreneurs recounted their early days of early challenges, multitasking, and eureka solutions. Registrants discovered what it takes to become investor-ready and learn about the angel investing process. Aimed at small businesses, aspiring professionals and entrepreneurs, attendees gained practical information and material that would help them determine if angel investment is right for their business and help them become investor-ready.
At the concluding session, the speakers will shared tips about private equity investment and how self-owned businesses and investors can work together to create a profitable business.
Concluded.
.