Bharatiya Mahila Bank chief speaks on women empowerment and innovation at IIMA
| June 19,2014 05:19 pm IST
Ms. Usha Anantha subramanian, Chairman and Managing Director of the Bharatiya Mahila Bank (BMB), today addressed students of PGPX, the one-year MBA programme, at IIM Ahmedabad, as a part of the PGPX speaker series.
IIM-A's PGPX batch comprises eighty-five highly experienced professionals from diverse sectors.The current 2014-15 batch also has the highest representation of women of all previous PGPX batches at IIM-A.

Ms. Anantha subramanian laid out the bank's premise and the huge void it sought to fill. She stated that although Indian women had traditionally been saving, spending and borrowing throughout the years through non-formal channels, they had not been integrated into the formal financial system. As a result, only about 26 percent of the 585 million women in India have any kind of formal relationship with a bank.The bank's focus is to address this deficit.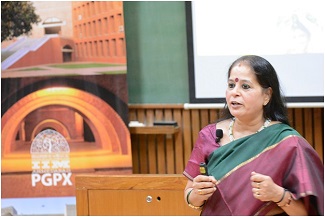 Keeping that focus in mind, Ms. Anantha subramanian spoke about the distinction between BMB and other public sector banks in India. Though the bank invited deposits from all genders and was open to doing business in all strata of the society, it addressed unique needs of women by providing a variety of products oriented towards helping women entrepreneurs and working women. Some of the unique products launched by the bank include - the BMB Shringaar Beauty Parlour Loan, the BMB Annapurna Catering Service Loan and the BMB Parvarish Child Day Care Centre Loan - all of which are products oriented towards businesses which are predominantly women run.

In speaking of innovative approaches adopted at BMB, Ms. Anantha subramanian spoke about how BMB was the first to have adopted an opex rather than the capex business technology model typically adopted in the banking industry. This standout approach now has several other banks and entities that were recently issued new banking licenses tracking BMB's success with an eye to adopt this model.

About future growth plans, Ms. Anantha subramanian said that they would consider all innovative technology options including the launch of Internet- and mobile-banking services. This desire will also see it pilot-test a mobile-van bank concept in Mumbai. Through this it would offer its entire standard branch banking services to customers through a mobile-van.
Concluded.
.